Embracing tomorrow, technology, and a team approach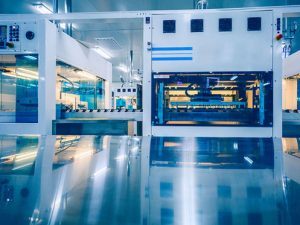 The state of manufacturing has never been as tumultuous as it is today. Progress comes in surges. New technologies, new business models, and a reignited drive to power-up propels manufacturers forward. Then, setbacks eat away at the gains. Slow recovery. Slow growth rates. Brexit. Now, where does manufacturing stand? At the edge of a gaping precipice or at the foot of a steep mountain that promises sky-high opportunities?
This is up to you. Industry leaders can choose to look down or up. The view from the top is much more exciting. There, manufacturers thrive, powered by next-generation technologies, digitalization, Internet of Things, data science, machine learning, virtual reality-enhanced engineering design, global supply networks, and customer-centric business models that offer customers insight and service, as well as distinctive, personalized products. It's an exhilarating sight. And, a powerful vision for the economy, in the UK, and the world. Each one of these technologies alone is a game-changer. But, together, they become a new era in manufacturing, far beyond Industry 4.0.
No one is saying it will be easy. The rocky journey is fraught with obstacles. Cash flow, outdated software, emerging nations underbidding, start-ups stealing concepts, regulations on top of regulations. Some manufacturers feel beat up. It's time for a shot of adrenalin.
An energy boost is just the beginning, though. The strategic arm of the organization needs a reboot, too. Moving forward in today's high pressure, highly competitive landscape takes more than just plodding perseverance and cash infusion. This is the era of creative problem-solving, not just thinking outside of the box, but redefining the box and redefining the goal. It's the Uber-effect. Instead of providing today's consumer with a better car, Uber provides access to a car, virtually any time or place, with no hassles of maintenance or storage. The famous ride-share pioneer is now worth an
estimated $28 billion.
This focus on the end effect, rather than just a product, is the next wave of innovation. Instead of a company manufacturing and selling air conditioning equipment for a shopping centre, they will sell conditioned air. Instead of selling animal feed, the provider will sell herd health and weight gain. Instead of selling equipment to dredge a channel, the enterprise will provide improved trade routes for larger ships. Instead of a shoe manufacturer simply selling shoes, expect to see a buying experience that is fun, memorable, and sure to inspire more footwear purchases.
This takes a change in mindset. And a workforce with new skills. Most of all, it takes a willingness to embrace tomorrow, technology, and a team approach to discovering answers. There must also be the vision for how partners collaborate, interconnected networks, and tools to make it easier to turn fresh ideas into reality.
You're either all-in or you're not. This next era, digitalized manufacturing, is a whole-system transformation, from product design to order entry to shipment and aftermarket service. Each link in the value chain is as critical as the next.
So, how can a manufacturer that has already weathered its share of storms and is limping along, dealing with some ongoing pains, suddenly take off in this new direction? How can this type of wholesale change be remotely feasible? Are we expecting too much of manufacturers, setting goals too high?
No. Digitalization of manufacturing is already happening. There are early successes to act as models.
Ferrari
,
Egbert Taylor Group
,
JR Watkins
,
Dunlop Aircraft Tyres
and
Vantage Power
all are examples of companies that have stepped up to the challenge and found innovative ways to apply technology, particularly ERP solutions and cloud deployment.
"As a young engineering company, we are in an excellent position to get the most out of the cloud," said Alex Schey, CEO of Vantage Power. "That will quickly evolve as new versions of the power trains are developed and we increase our customer base. Looking further to the future, we plan to take the data from our power trains and feed that into the ERP, so we can proactively maintain the units, and offer a cost-effective and complete managed service to our customers. Cloud will be at the heart of making all of this happen."
Egbert Taylor Group, manufacturer of waste bins, reports similar sentiments about the need to upgrade outdated systems. "Our legacy systems were reaching the end and, as such, we required an effective system that would enable us to have greater visibility of the business and its processes," said Andrew Davies, finance director of Egbert Taylor Group. "Our objectives included improving working capital management, streamlining production processes, as well as integrating our quoting process into a single cloud-based solution."
These are just two of countless examples of manufacturers solving problems with technology. We are not surprised by the great accomplishments of our customers. Manufacturers are the greatest problem-solvers of the world. Manufacturing minds are brilliant when it comes to "making something work" and applying skills to make an improvement. In the recent past, those skills have been focused on improving the same basic products, over and over. How many models of a kitchen sink or front door have we provided to consumers over the past five decades? Now, finally, we have front doors that can tell us if a package arrived and a faucet that can save energy by calling for less hot water in off-peak hours. It's about time, right?
Now, industry analysts, experts, and technology partners, like Infor, are saying think even bigger, think broader. We've got your back, manufacturers. We have the technology to help you go in whole new directions. Be customer-centric. Outsmart the start-ups. Be agile. Move to the cloud. Eat data for lunch. Live data. Breath analytics and KPIs. Be all about data science. Value and speed will follow.
It's an exciting time in manufacturing, nothing short of a revolution. At Infor, we feel honored to play a part. We're ready. Are you?
Let's Connect
Contact us and we'll have a Business Development Representative contact you within 24 business hours