Enacting a culture of change
In this 3-part blog series we have discussed the importance of the company culture, especially its critical role in providing a foundation for digital initiatives in equipment-centric organizations.

Part 1 looked at barriers to a modern company culture
Part 2 focused on elements of a modern company culture

As explained in previous posts, without the right mindset in place, digital programs will likely fall flat, with disappointing results. Now, we can move further into a discussion of some specific tactics for building and nurturing this new mindset. Here are some guidelines to help you get started in creating a digital-ready company culture for your dealer, rental or service company.

Evolve over time. Remember that the company culture is a "living thing" that evolves as a natural outcome of attitudes, perceptions, core principles, and a collective consciousness. Top management cannot always control it, but it can influence the culture. Steps can be taken to train, reinforce and incentivize behavior. Policies can be put in place which help direct employees to the model. Words must be supported by actions, though, and employees are likely to spot inconsistencies between verbal claims and actual actions.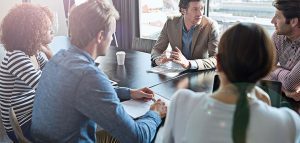 Agree early and often. Executives must be in agreement and have a clear picture of what type of value statements should be part of the organization's culture. Inconsistencies will generate confusion and will likely backfire. If the C-level officers aren't clear on positioning, the workforce will sense this ambiguity. Lack of confidence is a likely result.

Be bold. Commit to new ideas with full enthusiasm and allocation of resources, from funding to personnel. Disruptive digital concepts, especially new revenue streams or new service offerings, require an "all-in" mentality.

Role model. The company leadership will set the tone. As report on creating a company culture by McKinsey says, "Building a culture where people feel comfortable trying things that might fail starts with senior leaders' attitudes and role modeling. They must break the status quo of hierarchical decision making, overcome a focus on optimizing rather than innovating, and celebrate learning from failure."

Support front-line decision-making. In order for front-line personnel to be engaged in the new structure and new approach to business, they need the ability to make decisions and act on the real-time data available to them. Putting decision-making authority in the hands of customer-facing sales and service agents allows them to be responsive and act on behalf of the customers. This speeds action, a hallmark of a digital strategy.

Test and learn. Test new ideas and learn from failures as well as successes. Continuous learning should be a priority instilled among personnel. As organizations learn how to apply data received from the extended supply chain and sensors embedded in equipment, the organization's knowledge base will grow and become further refined. Establish systems for collecting and sharing knowledge. Applaud learning, even when it is learning a lesson from a failure.

Communicate with customers. Customer-centricity is now a necessity. Getting closer to the customer helps reduce the risk of experimentation because customers can collaborate on ideas and respond to ideas for value-added services. Building the relationship with the customer will lead to long-term loyalty and repeat sales.

Unify the company behind customer-centricity. Customer-centricity should extend beyond sales and service. It needs to become a unifying cultural element that drives all core decisions across all areas of the business. This includes every department, from sales to parts inventory and field service. Personnel who do not have face-time with customers will require other avenues for assimilating the customers' perspective and aligning with the customer-centric view.

Create cross functional teams. In order to break down silos and achieve multi-dimensional problem-solving, formulate teams with personnel from various departments. Create teams to focus on specific goals in the digital transformation.

Provide training. New ways of doing business require new skill sets. Be prepared to train your employees on soft skills, like team-building, conflict resolution, problem-solving, and goal-setting.

Support a collaborative environment. Find mechanisms, whether digital tools or in-person, for personnel to learn from others, share ideas and apply cross-functional concepts to problems as they arise. Ideas can come from any place in the organization—if someone is listening.

Celebrate successes. Successes can be small accomplishments as well as the bigger, long term goals. Praise, and other rewards, reinforces behavior and helps to solidify commitment. Recognizing an individual's contributions, as well as team efforts, helps to create role models for behavior and attitude.

By following these guidelines, you can build a firm foundation for your digital strategies. Cultural changes for an equipment-centric organization will likely be slower and more complex than the digital technologies disrupting the supply network. This is one of the reasons it is so critical to start early and take a firm stance on culture-related issues. The company culture can either support your initiatives—or stand in the way. Plan now, as you undertake your digital projects, to also focus on the people behind the scenes, the front-line users, and the idea-people. They will all pay a part in a true digital evolution.


Industry
Equipment
Equipment Dealers Rental & Service
Let's Connect
Contact us and we'll have a Business Development Representative contact you within 24 business hours