Enterprise Asset Management Helps Transit Agencies Prepare for Increased Ridership
They're coming soon to a subway, light rail, or bus rapid transit route near you. Increased ridership is a great problem for any transit agency to have, but only if you've deployed the right State of Good Repair (SGR) system to prepare your assets for increased wear and tear.
United States citizens took a record-breaking 10.8 billion transit trips in 2014, according to the American Public Transit Association. The European Union sees nearly 60 billion passenger journeys per year, according to the International Association of Public Transit (UITP). Which means it's hard to imagine a better time for a white paper that shows how the right Enterprise Asset Management (EAM) package can help you prepare your assets to accommodate growing customer demand.
Step 1: Know Where You Stand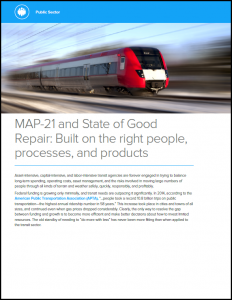 The first thing an EAM system can do is help you understand the current condition of your asset inventory.
"Start by creating a benchmark that identifies the classification, hierarchy, and attributes of every asset—vehicles, facilities, stations, guideways, and systems," the white paper states. "With the right enterprise asset management (EAM) system, you can manage your assets throughout their lifecycle," in order to "establish a framework for measuring and reporting tradeoffs between performance, cost, and risk."
Step 2: Set Priorities
It's the reality every transit manager lives with every day: All it takes is a few unexpected minutes of downtime, at a crucial point in the day, to throw an entire system off-schedule. An EAM system is the secret weapon that helps you anticipate and prevent those blockages, by pinpointing assets that are ready to be repaired, retired, or replaced and assigning SGR scores.
"An asset's condition, based on inspection, age, criticality, and risk, will determine its priority for repair or replacement," the white paper advises. "Quite simply, there's no reason to invest in an asset with a low SGR score."
Step 3: The Toughest Question of All: What If??
EAM software takes you beyond an asset's SGR ranking to assess the potential for future service failure.
"This information is especially helpful to have if you expect ridership to continue to increase in the years to come," the white paper notes. Equipment inevitably ages faster with more intensive use, and "this factors into how much time or money it will take to fix an asset, should it need to be serviced down the line."
Step 4: Set Priorities by Asset Class
A systematic approach to Enterprise Asset Management is particularly helpful when it's time to prioritize repairs and other capital improvements.
"With your EAM system, you can define and view all of your SGR needs, then sort them by priority and review them by category to determine where it makes the most sense to focus your attention," the white paper notes. "Having this kind of flexibility can help you to spread your capital planning requests further—and keep up with the demands that surround increased ridership."
Step 5: Plan Ahead
No asset will last forever. Some items, like rail cars, can have their operating lives extended with modified maintenance practices. Others, like transformers, must always be replaced on time, based on their age. The right EAM system helps you balance your priorities and allocate funding where it's needed most.
Putting It All Together
Public transit systems in many communities are on the verge of a new golden age, with ridership increasing and decision-makers shifting their planning policies toward transit-oriented development. The logistics behind this growth in volume and attention are manageable. But only with the right system for managing, allocating, and prioritizing assets and asset maintenance.
Click here for a copy of Infor's Enterprise Asset Management white paper on preparing for increased transit ridership.
Let's Connect
Contact us and we'll have a Business Development Representative contact you within 24 business hours