Enterprise asset management: Where workplace safety and higher profits go hand in hand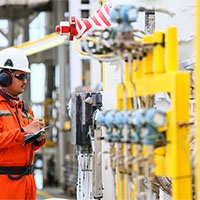 There are a couple of important reasons for a strategic approach to enterprise asset management: It's an opportunity to increase your profits and productivity while literally saving lives and limbs.

The human and economic costs of unsafe equipment and machinery are staggering. Workplace incidents across all industries and sectors killed 5,190 American employees in 2016, according to the U.S. Bureau of Labor Statistics, and resulted in nearly 2.9 million non-fatal injuries. That's 14.2 on-the-job deaths per day, and 5.5 injuries per minute.

And the cost to companies and the wider economy is massive: $250 billion per year as long ago as 2007, including nearly $1 billion per week that employers pay in worker compensation costs, the Occupational Safety and Health Administration (OSHA) reports.

Better Safety Boosts the Bottom Line
The numbers shine a light on health and safety as an area where an ounce of prevention is worth a pound or a ton of cure.

"Apart from the lasting human impact and anguish of a workplace accident, properly-maintained equipment and well-honed, well-understood safety procedures support a company's bottom line," writes Infor's Mike Stone in Industrial Maintenance & Plant Operations. "A safer workplace is one of the essential ingredients that ensure consistent, reliable, uninterrupted operations, building and sustaining a company's social license to operate and keeping workplace relationships smoother and more collaborative."

"Injuries and illnesses increase workers' compensation and retraining costs, absenteeism, and faulty product," OSHA agrees. "They also decrease productivity, morale, and profits." The agency cites a Fortune Five company where a strong safety program improved productivity by 13%, along with a smaller, 50-person operation that decreased faulty product and saved more than $265,000.

Getting from Here to There
An end-to-end approach to workplace safety begins with keeping equipment in optimum, safe working order, developing proper workplace procedures and rigorous training plans, and deploying sensors that set off alarms or simply shut the equipment down when it's being misused. A comprehensive, cloud-based EAM system does so much more than legacy equipment history spreadsheets, keeping critical assets in top working condition rather than failing or becoming a safety risk.

The right EAM software will:

Lay out preventive and predictive maintenance schedules based on manufacturers' specifications and actual equipment histories;

Deploy Internet of Things technology to spot inefficiencies or emerging hazards before they're visible to human eyes;

Replace hard copy maintenance routines with mobile checklists that make better use of technicians' time, while automatically uploading service records to a central server;

Replace multiple volumes and editions of hard copy manuals with electronic formats that are easier to use, and readily accessible to maintenance staff working in remote locations;

Give senior management immediate visibility on maintenance costs and performance—and on the implications for operational safety.

"Unless your business line happens to have something to do with health and safety, you may not have too many opportunities to literally save lives while boosting your own bottom line," Stone notes. "Enterprise asset management helps you connect those dots at the most visceral level."

Read "Boosting your bottom line with a safer workplace" in Industrial Maintenance & Plant Operations.

Product
CloudSuite Facilities Management
Infor EAM
Region
Let's Connect
Contact us and we'll have a Business Development Representative contact you within 24 business hours