Evolving technologies of digital supply chain networks
The second in a series designed to improve understanding of digital supply chain networks and the technologies that drive them.

There's no going back
The way consumers have embraced the visibility and responsiveness of businesses with fully digital supply chain networks is transforming the way your customers want to do business with you. It's easy to understand why. Every one of your B2B customers is also a B2C consumer and they like the way companies like Amazon and Uber meet their needs and respond to their expectations.

From many of the other suppliers your customers rely on, they can order online and know the items are available now, the day they will ship and the day they will arrive. Then they likely get an email update the day before the items arrive.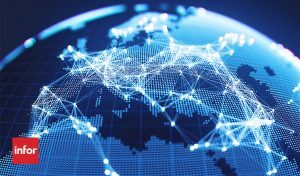 Before you dismiss this level of visibility, service, and responsiveness as impossible for an equipment dealer, think back to the changes the construction equipment rental "revolution" made to your business. Suddenly contractors wanted to rent or lease equipment, not buy it. They wanted immediate availability and guaranteed uptime for specific equipment for specific jobs. And because rental equipment dealers were all too willing to provide it, savvy equipment dealers reexamined their businesses and reorganized to add rental to their organizations.

Today, rental is just part of doing business but it was a game changer just 15 years ago. The game changer your company faces today is the transition to becoming a digital supply chain.

Where are you on the continuum from traditional to digital?
Traditionally, dealers rely on sales, marketing, rental and service departments to analyze customer demand using historic data (days, weeks, even months old) and predict demand for a specific period. Equipment and parts are ordered accordingly. Then, if all goes well, the dealership has what it needs to fill most customer orders and meet service needs.

Traditionally, dealers are organized by silos. Each department is its own fiefdom, keeping the information it has about customers ‒ whether deliberately or because the company is organized that way ‒ from other departments. And when that customer information is shared, it's often dispensed monthly or even yearly, when it is of little or no value.

Traditionally, uncomfortable with the volume of data coming into dealerships, dealers dodge data, leaving this unbelievably valuable data unanalyzed and unused.

All that is changing
Whether or not you're onboard with this game changer, the move to digital supply chain networks has begun. The next generation of equipment dealers and rental companies will need to be part of a digital supply chain network, organized and optimized to meet customer needs in real time. To do that, retail locations, websites, parts and service departments, warehouses, as well as customers, manufacturers, and suppliers will need to be transparent, digitally connected and in sync.

Rather than running from data, dealers that take a digital supply chain approach to business will analyze and use all of the available data to run their businesses more profitably and deliver what customers want.

Meeting the needs of today's ever-more-demanding customers will require a more-responsive and transparent digital supply chain that implements a rapid exchange of information using technologies, such as connected devices, the cloud, big data, and analytics. Infor can help you prepare. In Part 3 of our digital network series, we'll look at machine-to-machine connectivity and how it helps improve customer satisfaction.


Industry
Equipment
Equipment Dealers Rental & Service
Let's Connect
Contact us and we'll have a Business Development Representative contact you within 24 business hours