Gartner releases top 25 Healthcare Supply Chains of 2016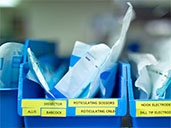 Cory Turner, Supply Chain Director
Gartner recently released its list of
top 25 Healthcare Supply Chains
, which recognizes organizations across the healthcare industry that demonstrate leadership in improving patient care at sustainable costs. These organizations are successful because they understand that having satisfied patients is more than just treating their disease or condition but also about treatment cost, location and convenience of the location in which they receive care. For example, before a patient goes into surgery, the hospital needs to make sure the inventory levels are correct for the needed medical devices and supplies to complete the surgery. Something as simple as delivering the right supply or device at the right time to the right patient help drive how organizations define their supply chain strategy.
These rankings are derived by combining quantitative measures and opinions into a composite score. Quantitative measures look at connections between financial health, performance and supply chain success. The opinion component offers a glance at the value chain leadership and demonstrated supply chain performance.
We are proud to partner with the customers noted here who focus on developing a patient-driven supply chain strategy. Congratulations to our customers who made Gartner's list for the top Healthcare Supply Chains:
Mayo Foundation
Mercy
Cleveland Clinic
Banner Health
Ascension Health
Ochsner Health System
Advocate Health Care
These organizations have demonstrated success in combining strategy and capital to improve their supply chain operation and reduce costs. For example, Mayo Foundation developed Reveal, which provides real-time visibility for suppliers to measure contract compliance across Mayo's facilities. Steps like this to improve supply chain operations help create a more cost-effective healthcare system not only for the hospital, but also for the patient.
Again, congrats to our customers who are recognized on this list. Read the full article to learn what puts these organizations on top. Does your organization have a patient-centered supply chain strategy?
Let's Connect
Contact us and we'll have a Business Development Representative contact you within 24 business hours