Gearing up for Manufacturing Day, October 6
Celebrating. Innovating. Empowering.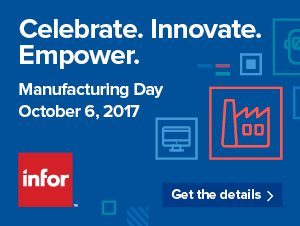 The state of manufacturing is in the national spotlight this week as the industry and its supporters, like Infor, gear up for Manufacturing Day Oct 6.
Manufacturing Day, founded by the National Association of Manufacturing in 2012, is a series of grass roots events meant to educate the public about modern manufacturing, dispel outdated perceptions, and expose job candidates to the opportunities offered by a career in manufacturing.
Manufacturing plants across the US will open their doors for community tours and educational workshops. Many events will focus on under-represented demographics like, women and veterans. Young people interested in high tech, analytics, and engineering fields will also be among the guests receiving VIP treatment. They are the future of manufacturing.
Infor is a proud supporter of Manufacturing Day and the manufacturing industry. We have over 25,000 customers worldwide using Infor software solutions for manufacturing. Throughout October we will be running articles and promoting videos to help reinforce the importance of manufacturing in the global economy and the role of innovative technologies in making manufacturers profitable.
Addressing challenges
Recruiting and retaining people in highly-skilled positions is a major challenge for most manufacturers. According to a recent report conducted by
Deloitte and Manufacturing Institute
, 80 percent of manufacturers report a moderate or serious shortage of qualified applicants for skilled and highly-skilled production positions. It's estimated that over the next decade, nearly 3½ million manufacturing jobs will likely be needed, and 2 million are expected to go unfilled due to the skills gap.
Retiring Baby Boomers is one factor, a shortage of graduates with science, technology, engineering and math skills (STEM) is another. Misconceptions that manufacturing plants are dirty, dark, scary places to work also hurt recruiting.
Manufacturing, once considered the All-American vocation for hard-working blue collar workers, has had its reputation tarnished by plant closings, lay-offs and jobs being lost to countries which typically pay low wages. Keeping manufacturing jobs in America came into the spotlight during the recent election, drawing some controversy. In many cases, traditional unskilled jobs have been replaced by automation and robotics. Yet there is still demand for highly skilled individuals.
Some strides are being made. Some good news from the
Deloitte/Manufacturing Institute survey:
Americans remain optimistic about manufacturing, saying:
-55% believe that sector can compete globally
-81% that future manufacturing jobs will occur in safer and cleaner environments
-64% believe the industry is high-tech
-76% of respondents believe the U.S. needs a more strategic approach to develop manufacturing
The profile of manufacturing today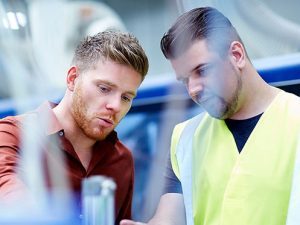 Here are some manufacturing profile stats, courtesy of National Association of Manufacturers (
NAM
):
-There are 12.3 million manufacturing workers in the United States, accounting for 9 percent of the workforce. Although the industry was severely hit during the Great Recession, manufacturing has been staging a recovering, hiring more than 800,000 workers since 2009.
-Manufacturers contribute approximately $2.18 trillion to the U.S. economy every year, making up roughly 11.7 percent of the GDP.
-NAM calculates that for every $1.00 spent in manufacturing, another $1.81 is added to the economy. These are the business who support the plants and the worker, from the cafeteria workers who feed crews to the makers of machinery and forklifts. In addition, for every one worker in manufacturing, there are another four employees hired in related fields, such as distribution or shipping.
-In 2015, the average manufacturing worker in the United States earned $81,289 annually, including pay and benefits. The average worker in all nonfarm industries earned $63,830. Looking specifically at wages, the average manufacturing worker earned nearly $26.00 per hour, not including benefits.
-Manufacturers have one of the highest percentages of workers who are eligible for health benefits provided by their employer. Indeed, 92 percent of manufacturing employees were eligible for health insurance benefits in 2015. This is significantly higher than the 79 percent average for all firms.
-World trade in manufactured goods has more than doubled between 2000 and 2014—from $4.8 trillion to $12.2 trillion. World trade in manufactured goods greatly exceeds that of the U.S. market for those same goods. U.S. consumption of manufactured goods (domestic shipments and imports) equaled $4.1 trillion in 2014, equaling about 34 percent of global trade in manufactured goods
-Taken alone, manufacturing in the United States would be the ninth-largest economy in the world. With $2.1 trillion in value added from manufacturing in 2014, only eight other nations (including the U.S.) would rank higher in terms of their gross domestic product.
While the future looks bright, much needs to be done to make sure that the public, including educators who may influence young people, understand the facts.
Check back often
Our blogs throughout October will share additional stats, celebrate the spirit of manufacturing, and salute the men and women who have devoted their lives to making manufacturing work.
Let's Connect
Contact us and we'll have a Business Development Representative contact you within 24 business hours