Grand Prix of Libraries - Livres Hebdo 2017
On 7 December, the prestigious
Prix ​​des Livres Livres 2017
took place in the prestigious setting of the INHA
library
in Paris, France. This year again, Infor felt somewhat "at home", since we have the honor of counting amongst our customers the host, the National Institute of Art History, users of V-smart, V -insight and Iguana.
Again this year, Infor customers are well represented among the winners, with the media library of Capucins de Brest, and the media library of Mouscron (Belgium) taking awards.
The jury, chaired by
Maylis de Kerangal
, also included Amaël Dumoulin, Lauréate 2016, director of the libraries of Dunkerque, also users of Infor software.
The "Goncourt of libraries"
Infor Libraries, through the voice of its General Manager, Jean-François Piat, reaffirms in his introductory speech the loyalty and commitment to this event that has fully found its place in the world of libraries. He is now known by the pseudonym "Goncourt of libraries" as recalled by the Director General of Electre, Michel Lanneau.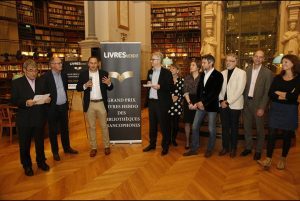 In his speech, Jean-François Piat regretted with humor that there is no price for "innovative computing", but consoled himself by emphasizing that, finally, innovative libraries also had innovative solutions (indeed, in 2016, Dunkerque succeeded Plaine Commune, also an Infor customer, while other clients such as Moulins or St Médard en Jalles were also awarded.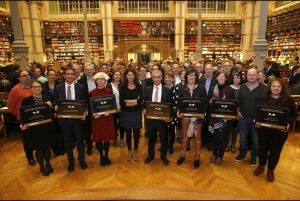 The winners around Maylis de Kerangal. We especially like to recognize our friends and customers, Carine Remmery (Library of Mouscron, first row next to Gilles Eboli), Amaël Dumoulin (Dunkirk, second row between Jean-François Piat and Patrick Delobbe), or Magali Haettiger (libraries of Brest ).
Congratulations to all the winners, and a thank you to the Livres Hebdo teams for the quality of the organization of this now unavoidable event. See you next year!
Product
Library and Information Systems
Region
Let's Connect
Contact us and we'll have a Business Development Representative contact you within 24 business hours