Help wanted: More women in manufacturing
Today is
International Women's Day
, a global day celebrating the social, economic, cultural and political achievements of women. This presents an opportune time to take a closer look at the female engagement levels in the manufacturing industry.
The manufacturing industry is facing a huge skills gap and a perception problem. When one thinks of manufacturing, they tend to think of a world of heavy, hands-on work. This kind of manufacturing work will likely always be around, but the industry is expanding to need people who are very technologically-savvy and ready to take on the challenges of 3D printing, robotics, and additive manufacturing. Manufacturing is expanding to include an even wider array of skills sets and capabilities, and women need to be a large part of any manufacturer's recruiting efforts to fill these roles.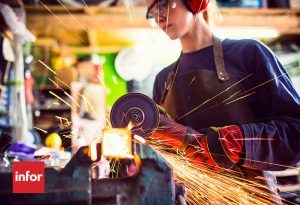 Based on participation numbers alone, there is a huge opportunity for women to increase their presence and make their careers in manufacturing. According to the recent "
Women in Manufacturing Report
" from the Manufacturing Institute, Deloitte, and APICS Supply Chain, women make up 47% of the U.S. labor force. However, only 29% of the manufacturing workforce are women.
What do manufacturers need to do to appeal to women? The Women in Manufacturing Report found:


Opportunities for challenging assignments, work life balance, and attractive income were ranked as the most important aspects for retaining female talent.

A school system that actively encourages female students to pursue a career in manufacturing. 29% of women think the school system is currently providing this encouragement.

Women ranked mentorship programs, flexible work practices, and increasing the visibility of key leaders who serve as roles models as most impactful in advancing women's careers.

Support, mentorship, and recognition within the workplace is key, but it's also important to foster these efforts across the manufacturing industry. The good news is there are several manufacturing-based organizations focused on meeting these important needs.
One organization is the Manufacturing Institute's
Science, Technology, Engineering and Production (STEP) Ahead initiative
, which highlights the achievements of real women in manufacturing on a national stage with a formal gala to celebrate their accomplishments.
Another important group is
Women in Manufacturing
. With a commitment to supporting, promoting and inspiring women who are pursuing or have chosen a career in the manufacturing industry, this 700-member group hosts events and training around the U.S.
The
Society of Women Engineers (SWE)
is perhaps one of the most established organizations for women working in engineering and technology-focused careers. As a not-for-profit educational and service organization focused on advancing women's careers in engineering, the organization provides an array of training and development programs, networking opportunities, scholarships, and outreach and advocacy activities.
Women are poised to have even greater influence on the manufacturing industry--all they need is the right education, mentorship, and support. The good news is these factors are coming together to make it an exciting time for women to become the assembly line workers, welders, engineers, sales professionals, and any of the other roles they may be interested in from the shop floor to the top floor of a manufacturing operation.
Let's Connect
Contact us and we'll have a Business Development Representative contact you within 24 business hours