Here, there and everywhere
More and more our applications are used in cloud environments, where often a single application (software instance) is shared by multiple libraries, each often with multiple branches. Through the implementation of the concepts of meta-institutions and institutions/locations each branch can have its own set of parameters.

V-smart is based on the concept of meta- institutions, from which all underlying institutions derive their basic parameters. The three concepts have the following meaning:
an institution is a legal entity (typical examples are a municipality, a university, a company, etc.)
a location is a physical location within an institution (a "branch")
a meta- institution is a group of institutions / locations that allow information to be shared.
As can be derived from the scheme below multiple libraries can 'share' information in all kinds of ways, for each of the modules (e.g. circulation, acquisitions, subscriptions, collection management, etc.)
Typical examples of data sharing are, for circulation the "sharing" of customers and items and for acquisitions the "sharing" of orders, suppliers and budgets. (The concept can imply e.g. the sharing of bibliographic metadata by two institutions that each have a separate circulation system.)
Sharing does not mean that everyone has access to everything. So even if e.g. items are shared, which implies that items belonging to branch A can be loaned at branch B, it is possible to set up authorizations that restrict such access. In all cases the general rule is: "local rules apply" (i.e. rules per location). This means e.g. in the above situation: A and B can have their own set of rules.
In an "on premise" situation there is, typically, only one meta-institution.
There are no maximums for any of the concepts mentioned: one can have as many as needed.
The three concepts are related and usually hierarchically structured, more or less as follows: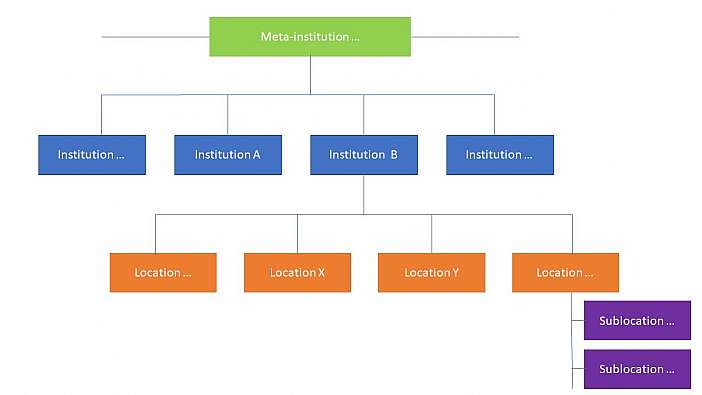 Product
Library and Information Systems
Let's Connect
Contact us and we'll have a Business Development Representative contact you within 24 business hours