Highlights from Inforum General Session Day 2
A classic New Orleans jazz band kicked off the second day of Inforum, our flagship customer user event, followed by a mainstage welcome from Mayor LaToya Cantrell.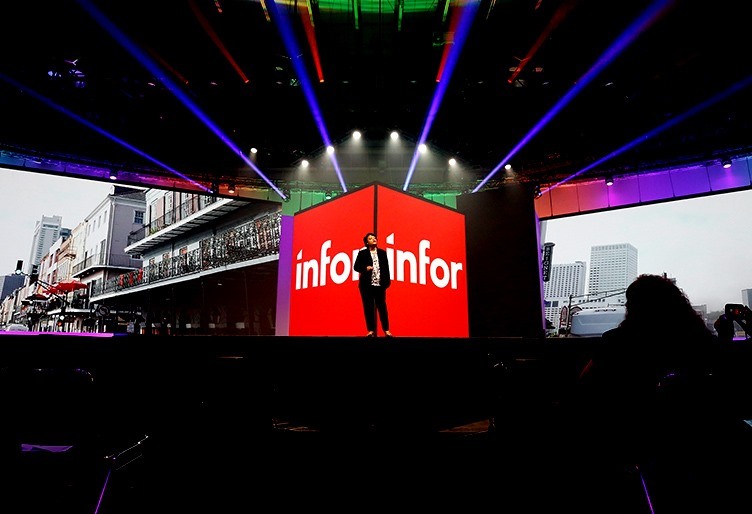 She said the city of New Orleans is currently implementing Infor solutions — no small or easy task, but one that is extremely important for the citizens and businesses of the Crescent City, as well as the visitors.
"I am proud of the Infor leadership and their commitment to help New Orleans transform itself," she said.
The mayor's emphasis on results and technology's potential impact on the city's future was the perfect segue to the line-up of speakers for the day and its overarching theme: the business of productivity.
Kevin Samuelson, recently named CEO, quickly recapped Infor's journey since its start in 2002, then turned to his vision for Infor's future.
"Here's what I want to attack head on," he said. "There is a perceived risk that enterprises often associate with software deployment. The industry has not always lived up to the expectations of customers. Implementations can be complex, not always providing the value and revenue growth expected. I want us to change that. I want Infor to be known for delivering customer value and bottom-line results."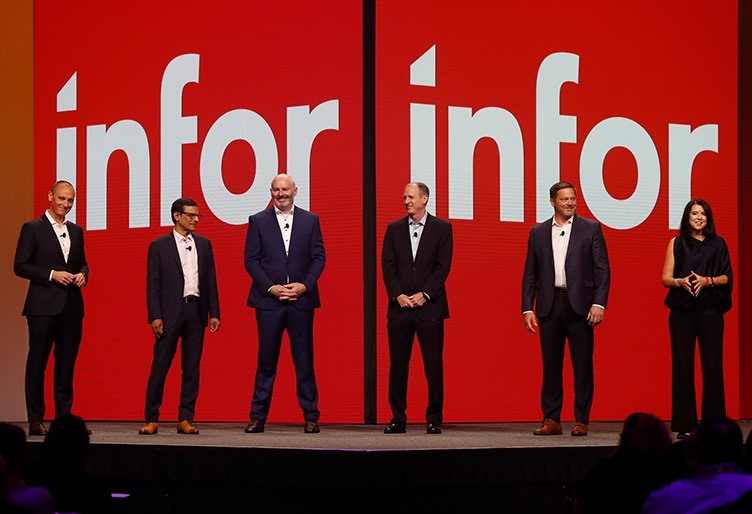 How are we going to do that?
Vertical functionality is one of the most critical elements in providing customers with end-to-end solutions that don't need modifications. From its first product, Infor has focused on building vertical industry features into its software solutions. In 2002, the applications built by Soma Somasundaram, now the Infor president and chief technology officer, focused on the highly specialized needs of the dairy industry. Today, Infor has specialized solutions for 12 industries.
Eliminating modifications makes future upgrades easier and faster. "We have invested $4 billion to make modifications obsolete," said Samuelson as he described the Infor strategy. In addition to last-mile functionality, value will be generated from these abilities:
In-context analytics. Embedding advanced analytics into the solutions so that organizations can dive into the reasons behind data and generate actionable insights
Robotic process automation (RPA). Automating routine tasks and streamlining processes so the workforces can be optimized to its fullest.
Usability. Creating a positive user experience that is also efficient and makes the best use of screen space, pushing relevant data to users.
Artificial Intelligence and machine learning. Using data science, predictive analytics and machine learning to anticipate next likely actions and take preemptive actions.
Data Lake. Harmonizing, storing, and leveraging data as needed to make fact-based decisions. Data from Infor solutions as well as data from third-party sources can be combined and harnessed to work together.
"These are the tools that put us in the business of delivering productivity," Samuelson said as he introduced the rest of the executive team.
A deeper dive into the technology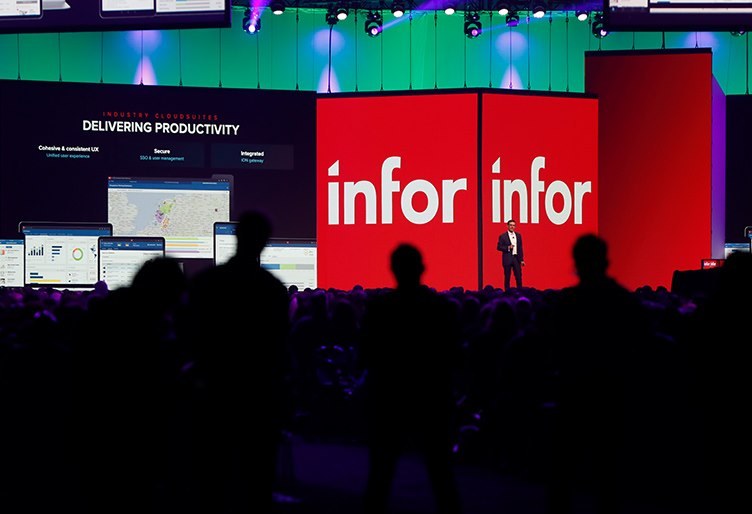 CTO Soma Somasundaram took the stage and ventured further into the technology differentiating Infor solutions, from the consistent and cohesive user experience to a federated, role-based security model, and the use of APIs for sharing information between solutions.
AI as a platform
Somasundaram announced a new offering: Infor Enterprise AI Ensemble. This AI platform offers tools to help companies use templates, apply data algorithms, and create AI-driven reports and insights, which can be put into action. Then, repeat. No longer will organizations have to go through lengthy proof of concept projects to apply AI technology.
"The 2020s will be the decade of productivity," Somasundaram said. "And Infor will help customers turn technology into productivity."
Next to take the stage were Rod Johnson, general manager of the Americas, and Cormac Watters, general manager of Infor international. They acknowledged the industry has not always delivered on the promise. "In the '90s, the view was that the only limitation was our imagination," Johnson said. "But, today, we know that there are other obstacles. Implementing complex software can be a challenge, sometimes lacking data that can be put to use in practical applications."
Infor's answer: The Intelligent CloudSuite. This next-generation solution combines industry-focused cloud solutions with AI-driven analytics, giving users the ability to dive deeper into influencing factors and arrive at actionable insights.
Your needs have changed. So have we.
Other Infor strategies and objectives that were described by Johnson and Watters:
The ability to reach go-live status quickly using a series of short sprints and realistic goals.
Concentrate on creating working prototypes to assist in change management
Focus on differentiating processes, the 10% of the operational workflows that require personalized attention
Process mining
Johnson and Watters then announced that promises to be game-changing for customers is here: Infor Process Intelligence, powered by Signavio.
Infor is partnering with Signavio, a company that developed a solution that mines process workflows, identifies gaps, document benchmarks, and helps companies improve operational processes. This technology will help organizations as they migrate to the cloud and develop new digital capabilities.
As the product and strategy portion of the mainstage presentations concluded, the theme of productivity came full-circle. Now, Infor customers can expect tools for greater productivity, faster deployments, more education and training, Intelligent CloudSuites — and tools to help transform processes, too. It's a full enterprise approach designed to deliver customer productivity.
Let's Connect
Contact us and we'll have a Business Development Representative contact you within 24 business hours