How distributors can thrive in a new era of digital competition
It's a source of strategic insight when the industry needs it most: At a moment when wholesale distributors are grappling with an accelerating threat from tech-enabled competitors like Amazon and Grainger Supply, the competitive intelligence specialists at MDM organized a webinar in late February that took a hard look at the future of distribution.

The webinar was a must-view event for anyone who wants to understand and respond to the mounting challenge the industry faces—now, and in the future. The great news is that, if you missed the live webinar, you can still view it online. The session featured Mike Marks, Managing Partner with the Indian River Consulting Group, along with MDM COO and President Ian Heller and CEO Tom Gale. Infor was proud to support it as a sponsor.
The future your future could be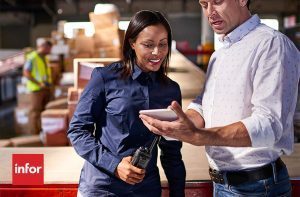 During the webinar, Mike Marks painted a compelling picture of a successful digital distributor in 2020. It's the archetype of a company that drives old school distributors out of business by "buying right", selling at margins below 15%, holding sales and admin costs below 10%, and earning 10% EBITDA margin at the top of the cycle.

To get from here to there, Marks said today's distributors will have to transform every aspect of their businesses, from internal processes to external relationships with customers and suppliers.

Internally, generalist sales reps are streamed into a network of multichannel specialists, backed by robust, cloud-based CRM systems that minimize paperwork and speed processing for quotes, pricing, customer service, purchasing, and supply chain management.

Customers get to rely predominantly on their smart phones and tablet devices to review and order products, track shipments, and manage their transactions.

Suppliers perform all transaction and warranty management electronically, and willingly pay for business intelligence data that will help them help their distribution partners deliver more timely, strategic service to customers.
Digitizing the customer experience
While many distributors are moving faster to digitize their vendor relationships and internal processes, MDM's Ian Heller said that effort must now extend to customer interactions—because Amazon is already there, or soon will be.

"One of the areas where distributors seem to have been protected from Amazon Business over the years was e-procurement," he said. But now, Amazon is "pitching their marketplace as a bolt-on for e-procurement systems," and some of the bigger procurement organizations are paying attention.

Initially, those purchasing managers might just see Amazon as a back-up source when their regular distributors can't supply the items they need. But there's a second benefit Amazon can offer that may well represent a more serious threat.

"If you talk to procurement leaders in large corporations, they'll tell you, 'Hey, organizing all these catalogs is very difficult. I have a large IT challenge to integrate this many suppliers into my purchasing system.'" Internal product data catalogs are getting unwieldy and expensive, and end users are often dissatisfied when they try to get specific items at the moment they need them.

"In the short term, this plug-in of Amazon Business Marketplace into e-procurement systems can be a difference-maker, but we don't think that's the long-term plan," Heller said. "We're speculating here a little bit, but we think Amazon Business intends to become the e-procurement system for major buying organizations. We think they actually want to move all the other suppliers to second-tier status, so they get first stab at fulfilling the purchases from that big company."

Which means two immediate takeaways for distributors: Now is the time to understand the challenge and get a handle on the solutions available through cloud-based ERP. And once you have that information, it's time to take action.

Click here to view MDM's webinar The Future of Distribution.

Product
CloudSuite Distribution
CloudSuite Distribution Enterprise
Distribution SX.e
M3
Region
Let's Connect
Contact us and we'll have a Business Development Representative contact you within 24 business hours