How Flint Hills Resources overcame its legacy challenges to implement Infor EAM
April 23, 2021
By Kevin Price
Flint Hills Resources is a refining and manufacturing company that relies on Infor EAM to manage its assets across the United States. Scott Myers, EAM Capability Leader at Flint Hills Resources, talked with Infor EAM Strategist Kevin Price about how FHR overcame its long-lasting integration and adoption challenges to facilitate a speedy implementation.
This Q&A blog summarizes the Fireside chat Scott and Kevin held during Inforum 2020 Digital's live event.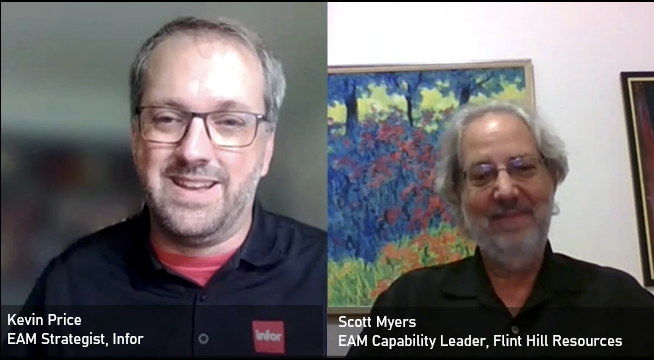 Kevin Price: Scott, can you give your own background on Flint Hills Resources and what your role is within the organization?
Scott Myers: Sure, so Flint Hills is a wholly owned subsidiary of Koch Industries. The company started with two refineries in Corpus Christi, Texas and another outside of St. Paul, Minnesota. We've grown quite a bit since then; now we have a fleet of ethanol plants, we own two chemical plants, we have extensive pipelines and terminals throughout the US.
We like to say we make things possible: From transportation fuels, asphalt for roads, chemicals that go into dental fillings and the screens of your TVs or phones, fibers that go into carpets. If you take a look around, you'll see lots of products we didn't make, but made possible.
Managing maintenance systems has been my career at FHR for the past 30 years. My first project was doing some enhancements to the old TSW IMPAC system, then we migrated to Maximo, I supported that for several years. And now I am managing Infor EAM.
Kevin: You've seen different systems, how they work, how they behave, how they've evolved over the years. Can you tell a little bit about the journey that you've been through with Infor?
Scott: We had kind of backed ourselves into a corner because we had an extremely modified version of Maximo. We were at a point where another upgrade was going to be a two-year project, almost a reimplementation. As we were evaluating that, Koch made a major investment in Infor and it was kind of a catalyst for us to really start looking at Infor solutions. It began with Infor Cloud Suite Financials, which replaced our implementation of Oracle Financials. We followed that up in FHR with our EAM implementation. We had quite a challenge to get our suite of systems on to a viable, sustainable roadmap and embracing Infor EAM was key to do that.
Kevin: What were the top three must have capabilities you were looking for?
Scott: The standard maintenance system functionality you need to process orders and manage inventory, those were obviously must-haves. Given the variety of sites that use EAM, we did not want to implement a highly prescriptive, pre-defined workflow. EAM provided a flexible status-driven process and various tools to audit and manage the process. Then we were excited about leveraging checklists for those times where we needed a prescriptive, step-by-step set of instructions and data gathering for certain complex activities in the oil and gas industry.
Kevin: Infor checklist and the inspections modules were born out of a response to complexity from the oil and gas industry. What else besides checklist did you need?
Scott: Mobility. We're all about mobility. We have implemented the Infor EAM Field Work mobile application and I think putting the tools into the hands of the users where they are working is very powerful. We are also getting a lot of mileage from the Case Management and Nonconformities modules. We're using those modules as a way to record, track, and manage things that we don't want to gum up the work order system with. We are really starting to leverage both modules in more and more ways to manage RCFAs, track work barriers, manage issues that arise out of equipment monitoring, etc.
Kevin: How did you manage the implementation? Compared to other organizations of your size and complexity with different types of assets, you did it pretty fast.
Scott: We pulled a dedicated team together and we were all extremely focused on the project. We augmented the team with really good Infor functional and technical people as well as external consultants to help with some of the initial design work. The consultants also provided a very strong change management capability; we knew that was going to be a huge challenge. The other thing that was a real key for the success of the team was that we had dedicated strong site leads at each one of our operating sites and they did a fantastic job of working the local change management at their respective site, really making sure that people were prepared for this.
As part of our implementation, we touched a lot of systems beyond Maximo. We retired a homegrown PM system, and migrated PMs into Infor EAM. We also had Meridium (GE APM) as our primary asset registry, and we migrated that functionality into EAM. We also knocked out various one-off applications and spreadsheets and migrated those to EAM.
Kevin: How did you get users to adopt the new solution and processes and move on with it?
Scott: We took a very different training approach to avoid the painful full-day classes. We provided different forms of communication such as short videos, newsletters, demos, etc. Our main training tool was the UAP learning library tool integrated with EAM where users could watch short videos showing how to use the specific screen/function within EAM. We held "learning labs" at the sites where people would come in, walk through some of those learning objects, and use the training system. If they had questions, if they got stuck, someone would help them, so it was kind of self-learning with guidance and assistance available…that was very successful.
When we went live at a site, well, we had a sledgehammer approach. You couldn't use the old system anymore; it was available in read mode only. We set up a "site war room" and project team members stayed there for a week with the site lead and some key power-users, and people would just stream through the room to discuss and solve their issues in a team effort. It was a wonderful thing to watch the site leads field most of the questions. We set up a Teams channel for each of the go-lives where people could post questions, that was tremendously effective. In fact, that was so successful that once the project ended, we decided to implement a permanent Teams channel for EAM Q&A and support.
Kevin: What are the key lessons you would probably tell yourself if you could go back and start the project again?
Scott: The number one thing I would tell myself is that we could have tightened up the process design stage. We've used the systems since the eighties…we didn't need to start with a blank slate. We should have gone straight into screen design and focused on the things that are unique to EAM. Also, we were slow in focusing on data conversion and understanding just how critical that is.
One other thing is that we underestimated the complexity of integration, especially being the first to integrate EAM and Cloud Suite Financials. Infor was providing quick turnaround on issues, but it was a bigger challenge than we thought given the number and complexity of transactions flowing between the systems.
Kevin: Going back to reliability-centered maintenance approaches, processes, statistical analysis—where do you see the asset management and work management market going?
Scott: I'm not the best at keeping up with all of the latest and greatest experiments, but something I do see is the mobile apps evolution, especially in these days of COVID. I have a computer at home, but I hardly ever use it. I do tons of online orders and other activities all from my phone. I think to get to that level of total functional sufficiency on the mobile device is going to be a wave of the future.
I would also highlight the trend to more intuitive graphical data manipulation, really interacting with the data in a graphical form instead of static reporting. We capture a lot of data and have the ability to store it all in a data lake repository, so we now have to figure out what to do with it and make it more meaningful and useful at all levels of the organization.
Kevin: A final word for your peers?
Scott: We have spent the past few years modernizing our systems to get to cloud-based SaaS solutions. That's really been our focus. Now with all of our new systems, we realize we need to spend some time to strategize and define the next wave of initiatives and define how we can best use this new world of systems. If we had done this too soon we wouldn't have been ready for it, we needed to focus on establishing an updated suite of core systems. I think this strategic focus to define the next wave of system initiatives is going to ultimately be a game changer in the future.
Today's asset management tools can boost an organization's productivity, reduce costs, cut energy waste, and encourage the adoption of best practices across the entire business. Read Infor's latest guide to learn more about the technologies and tools that are revolutionizing asset management, and how they can help you optimize the devices and equipment your business depends on.
Let's Connect
Contact us and we'll have a Business Development Representative contact you within 24 business hours