How Infor knows its customers
It's no secret that our customers are at the core of everything we do—whether it's finding prospects, developing an initial relationship, and, arguably most importantly, after the deal is done. So how does our sales team get to know our customers? We're asking the team directly.
We've been realigning
all
of our employees around customer success. As our Chief Customer Officer Mary Trick notes, "For the sales person, that means identifying the customer's business needs, and then showing the customer how our solutions will help them address those needs, rather than simply demonstrating one of our excellent solutions. The actions are the same, but our positioning and interest ensures it's entirely focused on the customer."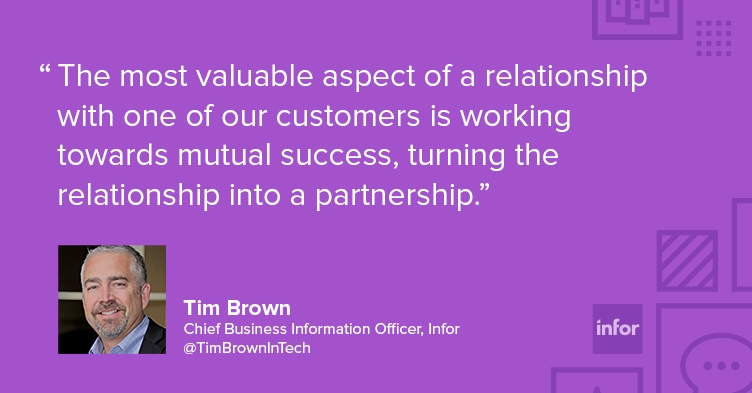 In tribute to our favorite customer-centric sales people, we're talking to industry team members who are doing customer relationships right. We're kicking off our campaign with Tim Brown, chief business information officer who has been in the healthcare sector for majority of his career.
Healthcare, is about partnering and delivering value with customers, finding out where they're at in their journey," Brown says. He believes relationships should be thought of as "mutually beneficial partnerships" where both bring their perspectives and insights to the table and work towards a common goal.
At the executive level, day-to-day schedules are often filled with handling the more strategic direction of the company, and there is only limited time for meetings. This time, Brown says, is extremely valuable—and must be done in a personal, individualized way.
"While there are certainly similarities between customers, especially in the healthcare industry, maintaining a great relationship is about understanding that every relationship is different."
"The key is figuring out what works best for that particular customer: coffee may work for one customer, and dinner another. Also, respecting that everyone is human, and for some, dinner may not work as they want to spend time with family, or during the day, they may have absolutely no time."
So, how does Brown get to know a customer at the initial stages? Believe it or not, his preference is not a phone call or LinkedIn message. It's the old-fashioned way: offline.
"I find meeting face-to-face is extremely beneficial, and it's how I like to lay the foundations of the partnership. Often, I will get introduced to a customer via the telephone or through a social media platform, but getting to know the customer, figuring out their goals and understand what works best for them is best, for me, in person."
For the ongoing relationship, developing cadence is key.
"Going forward, I try to schedule face-to-face meetings where appropriate, and always develop routine cadence for when we're talking. This could be monthly or quarterly, depending on the customer, but I always check in."
Ultimately it comes down to understanding your customer and finding the value for both parties. What insights do you bring to the table? How does the customer like to communicate and engage? Developing the symbiotic relationship, where both customer and company learn and grow together, takes time and requires deep industry knowledge. Ultimately, however, it ensures goals are reached, and everybody is happy.
Infor's products are developed for next-mile functionality, and it's apparent that our sales team members are dedicated to their customers, and determined to go the additional mile for them.
Meet other Infor sales stars in our quarterly
Get to Know Your Customers Day series
.
Let's Connect
Contact us and we'll have a Business Development Representative contact you within 24 business hours