How MRM can help retailers take the humbug out of the holiday season
Other than chestnut roasting, mistletoe growing, and sleigh bell manufacturing, you could make an argument that the industry with the closest ties to the holiday season is retail. After all, what would the holidays be without decorated shop windows, mall Santas, Black Friday, and Cyber Monday?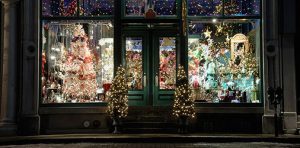 However, despite all the jolliness and good cheer, the holiday season is a high-stakes/high-stress time of year for retailers. But an advanced Marketing Resource Management (MRM) platform can help retailers cope with the pressures of the annual holiday crunch — and allow them to better capitalize on its opportunities. So, with apologies to Charles Dickens, here's a look at how MRM can help brands manage the holiday horrors embodied by the Ghosts of Retail Past, Present, and Future.
The Ghost of Retail Past:
Understanding how previous activities can shape future success
The first apparition in Scrooge's ghostly trifecta takes him on a tour of his past. He gets a sobering look back at the joys and disappointments that have made Scrooge . . . well, a Scrooge. Marketers also need a good memory to make the most of each holiday season. The right MRM solution should function as a repository of collective know-how on the campaigns, strategies, programs, and promotions of years past. It should offer the analytics that help retailers identify what worked and what didn't — and understand why those specific campaigns and promotions had the effects they did. It can be a source of ideas and inspiration and a check against repeating the mistakes and miscues that lead to lost opportunity.
The Ghost of Retail Present:
Doing the right things the smartest way as conditions change
In Dickens' tale, the Ghost of Christmas Present only gets a narrow window of time each year to hold court. It's a great reminder that the clock is always ticking and time is precious. That's a lesson that retailers can take to heart. Each holiday season, they're under constant pressure to capitalize on the latest trends, adapt to evolving customer preferences, and respond to a fast-moving market in real time. With an advanced MRM platform, retailers can automate project management and approval cycles. They can streamline and simplify the management of digital assets by enforcing version control, reviews, and sign-offs. They can optimize resource utilization by tracking all the personnel currently assigned to a campaign — including project managers, designers, copywriters, developers, and agencies — to see if they are being put to the best possible use. In other words, they have the tools and flexibility to make changes, in real time, as holiday campaigns and programs evolve, rather than only after the fact.
The Ghost of Retail Future:
Planning for what's to come versus reacting to what's happened
Scrooge's final visitor is a frightening and ominous figure that offers a vision of a bleak future — but Scrooge recognizes that it's a vision that doesn't have to be. Over the course of the night, he's learned that his previous choices and patterns don't necessarily dictate his future actions.
For retailers, just the thought of the annual reoccurrence of the holiday season can be frightening in its own right. They know that, ready or not, next year is coming — but the past doesn't have to be a template for what's to come. An enterprise-class MRM solution can offer critical visibility into your marketing operations. As a retailer, you can plan and optimize campaigns with a marketing calendar, manage collaborative production, control budgets and finance,s and improve decision making with immediate insights that are data-driven for planning of future campaigns. . Marketing teams can track work down to the level of individual tasks to manage priorities and projects more effectively. In essence, they can see around corners to know what's coming and what's needed. Instead of continually reacting, they can better anticipate requirements and act more strategically. The future doesn't have to haunt them.
At the close of A Christmas Carol, a transformed Scrooge and Bob Cratchit make plans to discuss Bob's future over a bowl of "smoking bishop" — a type of punch made from port, red wine, citrus, sugar, and spices. That earns the prize for the best end-of-year performance review in all of literature. It would have also been an ideal time for Bob to make his pitch for deploying MRM technology to Scrooge and Marley, as it's clear that his boss was in a great mood that day.
Let's Connect
Contact us and we'll have a Business Development Representative contact you within 24 business hours