How Talent Science powers effective interviewing
If you have not encountered an article discussing what the true cost of a bad hire is on your business, then you may be living in the same self-imposed, Internet-free space as writer and comedian Aziz Ansari is currently. Guesses on the real cost of a poor hire range far and wide. A common perspective has been that a bad hire costs about 30% of that individuals' total compensation. Tony Hsieh, CEO of Zappos, once told BusinessInsider that he believed bad hires had cost his business upwards of $100 million.


I will suggest the following: Good hires are nearly impossible to make if you conduct a bad interview.


I have crossed paths with hundreds of hiring managers over the years, and if you are reading this post, my guess is that you have too. Most of those hiring managers are well-intentioned, wanting nothing more than to assemble strong and solid teams that will meaningfully contribute to the growth of their respective businesses. Most of those hiring managers are also functional leaders – tasked with their current role largely because of their expertise and execution orientation within their field or discipline. Very few of those same managers have ever been trained in classical, behaviorally-based interviewing techniques. And therein lies a significant problem.


While there are myriad ways to conduct a bad interview, let's stay focused on the content of the questions posed by the interviewer. Let's assume that our well-intentioned functional leader/hiring manager is ready and willing for development as it relates to interviewing techniques. That still does not solve for the base level miss that haunts most businesses – that they do not know for certain which specific behaviors are most highly correlated with success in the given role they are trying to fill. If these assumptions around high performance are based on tribal knowledge or 'gut instinct,' this is the talent equivalent of wandering in a desert, armed only with a shovel, digging random holes, hoping to strike oil.


So how can Infor Talent Science help? It all starts with an assessment of your incumbent population in a specific role. Talent Science leverages a single assessment instrument that captures the Behavioral DNA® (across 39 specific dimensions) of each of your existing team members. Once the Behavioral DNA has been collected, Talent Science will then work with you to understand and capture specific performance data and KPI's currently used to evaluate the same incumbents' in that role (whose Behavioral DNA we have just collected). When these initial activities are completed, the Talent Science team now has two specific data sets: 1. The collective Behavioral DNA of the incumbent population and 2. The corresponding performance data of those same individuals. (Worth noting…the Talent Science team will ask for an incumbent population that contains high, middle, and low performers – not just examples of high performance. More on that later). Talent Science then leverages its patented software to run millions of calculations on those two large sets of data, ultimately delivering the holy grail of interviewing insight: the Custom Performance Profile (CPP).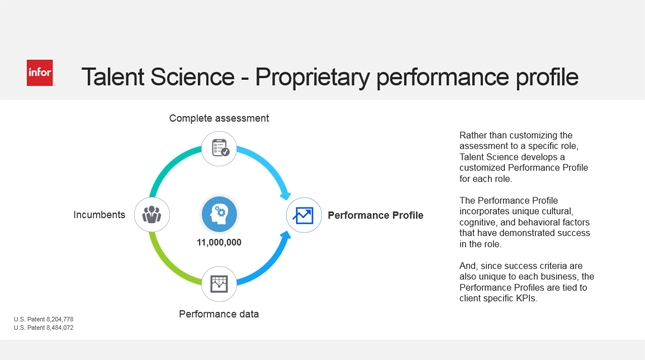 At the highest level, the CPP defines, in real terms, two general dimensions: 1. The specific behaviors, levels of cognition, and cultural preferences that matter most for success in the role at hand, and 2. An analysis of the actual dimensions that are not only consistent within the highest performers in that role today, but, equally as important, an assurance that those commonly shared characteristics of the high performers are not showing up within the middle and low performing populations (thus, the desire to analyze data from all ranges of performance). This approach ensures a level of predictive power 450% higher than typical off-the-shelf instruments.


Armed with this data-derived CPP, the client firm now has a powerful benchmark that allows for immediate identification of best fit candidates. Additionally, the Talent Science software dynamically generates structured, behaviorally-based interview questions that analyze the delta between the ideal ranges demonstrated within the CPP, and where a specific applicant scores in relation to those predictive, differentiating dimensions. These dynamically generated interview questions not only pave the way for our functional leader to hone in on the actual behaviors that matter most to success in the current role during the interview, but also help mitigate legal risk by ensuring that topics covered within the interview are appropriate, relevant, and job related. Each of these considerations help the interview to be a more consistent and effective step in the broader talent acquisition process – and isn't that what an interview is ultimately supposed to provide?

David Hammond, Director, Sales, Infor
Let's Connect
Contact us and we'll have a Business Development Representative contact you within 24 business hours