How the digital transformation is transforming customer relationships
As the digital transformation sweeps through industries and supply chains, the most successful companies are taking advantage of cloud-based technologies to shift transaction-driven sales in the direction of strategic relationships that better align with customers' needs.
It's a fundamentally different view of the value you bring to your customers. And based on the advice in a new report from
Constellation Research
, it's the key to a business renaissance that will deliver stable markets and sustained growth for the distributors who adopt it.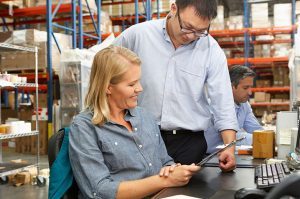 There was a time when distribution was a simple enough process: you received and fulfilled a customer order, restocked the warehouse, washed, rinsed, and repeated.
But with digital technologies opening up new opportunities, and integrated competitors like Amazon Business and Grainger moving aggressively for market share, distributors need every advantage to succeed and thrive.
Constellation points to two areas where distributors—along with the manufacturers who are the direct focus of the report—can do just that.
From product margins to service margins
Your customers keep coming back to you for the product mix you offer. But if that's where the relationship begins and ends, you may be leaving some important opportunities on the table.
By shifting from product margins to service margins, Constellation says providers of tangible goods can make money on installation, field service, remote monitoring, warranty fulfillment, and a host of other follow-on services.
The sale is just the beginning
With Constellation encouraging manufacturing executives to adopt a post-sale business model, distributors should see both a challenge and an opportunity.
If the vendors that supply your inventory are taking an interest in the rest of the supply chain, chances are they have their eye on your piece of the pie. As a distributor, you can take the same view, to both protect and expand your business.
"Organizations are moving from products to services, services to experiences, experiences to insights, insights to brand promise," Constellation reports. For companies like Amazon, that means selling entry-level goods that build mass audiences, then using digital insights from that activity to deliver customized services.
Your product range may not lend itself to precisely the same strategy, but you can still leverage the data you already have in hand to produce sophisticated insights that guide business strategy.
Technology makes it possible
Constellation lists the cutting-edge technologies driving the digital transformation—from artificial intelligence and augmented reality, to Big Data, mobile, cloud computing, and the Internet of Things (IoT). You've been here before, and you know that tomorrow's tech headlines will make today's breakthroughs old news.
But the basic story is still the same: Technology makes it all possible, and the pace of tech change isn't about to slow down.
That means the most important business partner of all is the enterprise software provider that can help you move your operations into the cloud, if you aren't already there, and deliver the efficiencies and continual, seamless upgrades that will keep your operations on track and competitive. With competition coming from more directions than ever before, there's no time to lose.
To learn more about entry points to digital transformation, download the report from
Constellation Research
.
Let's Connect
Contact us and we'll have a Business Development Representative contact you within 24 business hours