How the right nurse staffing technology shows up at the bedside

While the healthcare industry continues to change at a rapid pace, one thing has remained constant: concerns over nurse staffing and the patient experience. Technology has stepped in to solve this issue and to mitigate, or even eliminate staffing stresses. However, technology needs to have the right capabilities to address healthcare's unique—and evolving—needs.


Proper staffing starts, naturally, with hiring the right people. But it's no longer enough to publish a standard job description, find someone who checks the boxes of skills and experience, and proceed until retirement. Millennial workers, who will make up most of the workforce by 2025, want a satisfying work experience, not just a job. That means staffing technology has to be able to manage individual preferences and professional development, giving managers the information they need to retain talent.

Become a matchmaker


The patient experience is at the core of everything we do in nursing and clinical care. It is also crucial to sustaining viability in the era of value-based care.


Today's sophisticated staffing technology can gather key candidate characteristics, including work styles, behavioral, and personality traits. Using that information, hiring managers can place caregivers and other staff in the right role, one where they are most likely to feel energized, engaged and valued. It also can match unique staff with patient needs and acuity, and ensure any new hire starts strong on day one.


As we start to see more staffing personalization, it also shows up in how we approach professional development. Any system should be able to assess a person's skills and needs to determine and automate a professional training or certification path. Today's caregivers recognize the need to keep their skills at peak form, and making it easy and seamless will help them thrive in their role, long-term. For managers, built in predictive analytics can show key staffing moves and performance, allowing a more strategic approach to overall staffing


For example, one conventional staffing practice that is evolving and changing is the performance appraisal. We have found that with Millennials, who tend to change jobs frequently, it's no longer enough to sit down annually and review strengths, weaknesses and goals. Instead, managers should conduct regular check-ins with employees throughout the year, providing and asking for feedback. And while that sounds onerous, it doesn't have to be if all of the relevant staffing information is automated and intuitively accessible at the manager's fingertips.

Data to drive daily decisions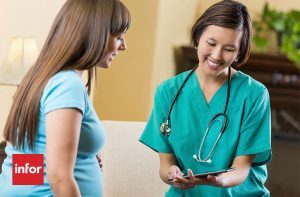 In a 2016 survey, 94% of nurse managers agreed that scheduling and staffing problems negatively affect overall staff morale. Nearly 70% say they are concerned about the effects of nurse scheduling on the patient experience. We all know that overtime is more expensive and can affect the bottom line. However, even more important, overworked nurses bring fatigue and risk to the bedside and are more likely to leave an organization.

Staffing technology can meet that challenge by giving nurses more control over their own schedules and work role preferences. It creates a culture of self service, letting staff change shifts, control hours worked, and even pick up hours, but only when they want them.


This kind of scheduling self-service also frees nurse managers from cumbersome administration, allowing more time to focus on strategic management to optimize patient care. In addition, those leaders have easy access to more analytic staffing data than ever before. That empowers managers to focus more time on retaining employees, especially top talent, and identifying new roles for staff who may be looking for their next challenge.


Ultimately, nursing is about people. It's time to look to technology to alleviate the burden of some of nursing's more mundane (but necessary) tasks, so we can keep our valued caregivers focused on where they need to be: the bedside.

-Danielle Miller, PhDc, MSN, RNC-OB, C-EFM
Product
Global HR
Infor HCM
Talent Management
Talent Science
Region
Let's Connect
Contact us and we'll have a Business Development Representative contact you within 24 business hours