How to make data-driven decisions for your asset management needs
Our Expert Insight sessions are new this year, but the facilitators in room 269 are far from new to Infor or our products. The Infor Education instructors use their years of experience in the field to help you get the most from your Infor products.
In the Inforum 2019 opening session, CEO Kevin Samuelson asserted Infor's goal that go-live is not the destination, but the beginning of partnering with our customers for real results. This was a great lead-in for Sr. Learning Consultant Melissa Kruminas to leverage 15 years of experience in Infor EAM with a session on how to make data-driven decisions for your business's asset management needs.
If you've attended one of Melissa's sessions before, you know that her sessions are dynamic, and she uses feedback from the audience to make the content as relevant as possible. Attendees shared concerns with quality data, employee engagement, and motivation, as well as the need to standardize processes. Together, the group discovered tools within EAM to help solve these problems. Check out some of the takeaways below.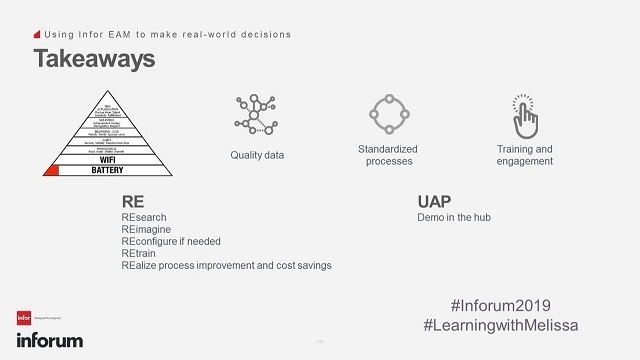 Melissa Kruminas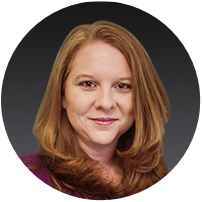 Senior Learning Consultant
Melissa is a Senior Learning Consultant with 12 years of CMMS and EAM experience in manufacturing and distribution environments. Prior to joining Infor, Melissa worked as the EAM Operations Manager for the global headquarters of Fruit of the Loom, Inc. responsible for the implementation, training, and development of Infor EAM for Fruit of the Loom, Spalding, Russell Athletic, and Vanity Fair brands facilities in North and Central America. Melissa specializes in process improvement and completed FOTL Six Sigma Black Belt certification. At Infor, Melissa serves as a Senior Learning Consultant concentrating on Infor EAM.
Filed Under
Asset management
Education & Transformation Services
ERP
Events
Inforum
Manufacturing
Industry
Automotive
Aerospace & Defense
Chemicals
Construction
Education
Energy
Equipment
Food & Beverage
High Tech & Electronics
Industrial Machinery & Equipment
Industrial Manufacturing
Let's Connect
Contact us and we'll have a Business Development Representative contact you within 24 business hours