How to use science to understand and transform your culture
Talent Acquisition strategies traditionally align HR with the business, but is there more to consider? Experience, skills, education, and other criteria are important, but many HR and operations leaders agree that culture trumps everything. The labor workforce is tight and retaining employees has become more challenging as wages increase and employees leave simply for additional pay. This has shown to be especially true with the Millennial generation. Organizations have high-performing employees on payroll today who could leave for higher pay--so how can we best retain them?


To recognize whether an individual will mesh with an organization's culture requires going beyond collecting a resume, qualification questions, or a subjective interview. Understanding loyal performers ties back to who they are behaviorally. Organizations who use talent science understand their workforce's cultural behaviors and its relationship with performance data. The objective is to relate the cultural dimensions to those behaviors associated with the expectations of the position. In other words, workers who are a good fit to the job and company are not generally looking for other opportunities.


The insights garnered from scientific analysis enables organizations to utilize the information across the talent life cycle. Scientific cultural insight provides a high degree of predictability for retention. Recruiters and hiring managers are provided specific topics, how they can impact work, and cultural interview questions to understand how the candidate or current employee aligns with the bigger picture. Once selected for a new position, cultural insight is leveraged for onboarding as well as coaching/development content to further enhance employee engagement and retention.


One of our Infor Talent Science reports (the Scorecard tab) includes an overall view of a candidate's Culture Fit, as shown below with the red markers and their placement on or near the green target zone.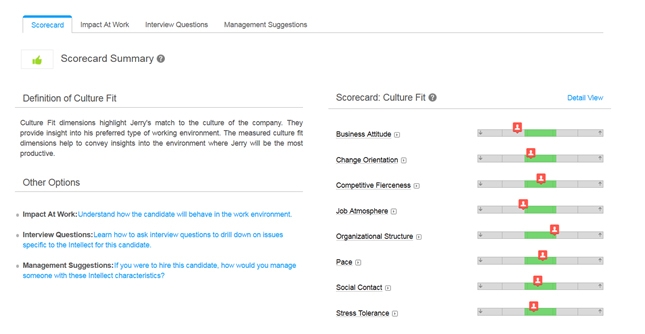 Any opportunities to improve a candidate's placement along the target range are addressed in customized interview questions, learning courses, and ongoing career development materials.


As organizations factor in ideal cultural fit to the hiring equation, the workforce transforms to a more unified culture. The result is the right organizational and job fit. Validation is achieved through continuous data analysis resulting in retention, performance increases, and a stronger cultural workforce.


Please see our Talent Science page for more information and examples of how science-based behavioral insight is key to longer employee tenures and a stronger corporate culture.

Billy Lewis, Director, Sales, Infor
Let's Connect
Contact us and we'll have a Business Development Representative contact you within 24 business hours