Iguana Library (app) has a new version: why?
The Iguana Library mobile app went through a redesign, for the third time in its history. We will highlight what changes were made, why they were made, and we will finish with a list of features that were introduced with this version.

Additional background can be found here: "Be where the customer is".
Why a new app?
We are all aware that technology moves just as fast as time. The Iguana Library app was built in a development framework that is now discontinued, so we had to choose another one in order to continue development. Because the entire app had to be rewritten it was also a good opportunity to modernize and redesign it to provide a future driven, forward thinking application.

We chose Nativescript as a new framework and centralized the phone notifications within the Firebase (Google) platform. Support for Windows Phone is discontinued. We will support the next generation of the Iguana Library app for Android and iOS.
A new layout theme is introduced, together with a side menu to improve navigation. The new interface is more up to date with today's standards. Besides the redesign we also added features to improve searching, like best matches and sorting by relevancy, and a clever item availability filter. Frequently requested features for password moderation were also added.
Ready for branding
The new generation of Iguana Library is also -again- available as a brandable app. This enables libraries to stand out individually within the app stores as a separate app. And they can benefit from added custom features, integrations and implementations.
The main new features
Functional:
Side menu is introduced, together with a redesign of the app layout
Change password from within the app
Request a password reset code email, in case you forgot your password
Sort search results now also by relevancy
Added best match support, when no matches are found
Filter for availability of items
Ability to display borrower barcodes in various formats
Technical:
Future proof
CMS Site Profile & Parameter settings
NativeScript Open Source Framework
Firebase (Google) integration for centralized Push Notifications
REST / JSON Service Layer
Bug fixes & robustness improvements
Availability
The new version is currently live in two environments: Rozet Arnhem and Biblionet Groningen. Both are branded apps. General availability of the app will follow later this year.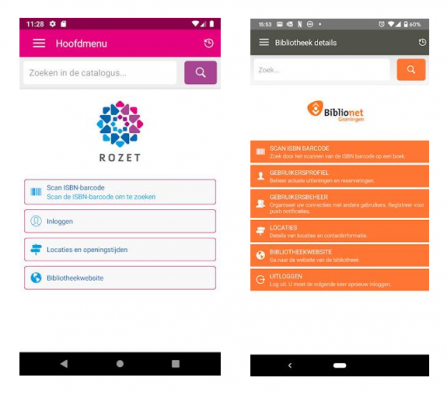 Product
Library and Information Systems
Let's Connect
Contact us and we'll have a Business Development Representative contact you within 24 business hours