As part of V-insight 4 Service Pack 1 we introduced a new feature called "At a Glance", which enabled the display of the most relevant data for a specific data type (e.g. customers, or loans, or website usage) on a single page. This was later expanded to include Iguana metrics, which shows the most relevant data about Iguana usage.

Iguana Metrics is a specific implementation of "At a Glance": it provides details on the usage of Iguana that cannot easily be obtained via the traditional V-insight analysis.
What it looks like
Iguana Metrics looks like this:
Please note that the chart type does not have to be "pie" – a user who prefers "columns" will "automatically" get a different presentation. The chart type can also differ per widget (e.g. 2 pie and 1 column chart).
The data can be viewed for any selectable period, e.g. per day, month, or year. Or multiples of these periods. With one exception (Top searches - see below), the data shown is always for that chosen period.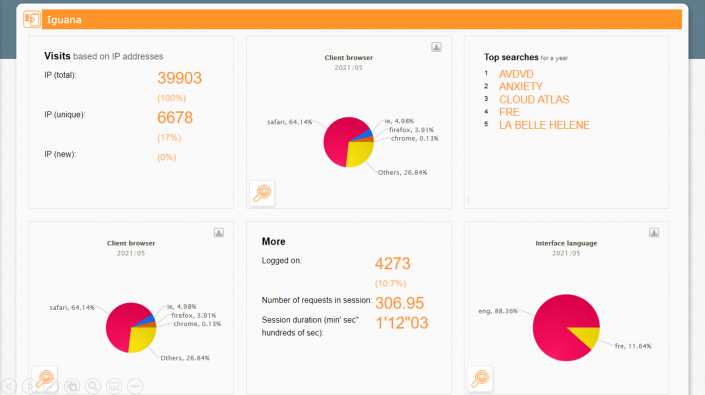 Sessions versus actions
The difference between the concept of Sessions and that of Actions is:
A Session starts at logon and ends at logoff (both can be implicit or explicit). A session starts at e.g. the submit of the URL in a browser, opening the application in a new tab, usage of a shortcut or an explicit (new) logon. If there is no explicit logon, then the session is anonymous. A session ends e.g. at an explicit logoff, a tab close and a browser close.
An Action on the other hand is any user action that happens between a session start and end. Examples of Actions are a search request submit, a page view or a language switch.
Six types of data
Iguana Metrics offers six types of data (presented as six widgets; see the above example). These are:

1 – Client IP address
This displays for the IP addresses how many were:
Total (the number of sessions)
New (if the user never before accessed Iguana from the IP, i.e. is not present in the data warehouse, it is flagged as new).
The IP address is used to identify a user, - taking into account that a lot of these do not logon with their credentials.
2 – Page visits
This shows "page views": the most visited pages. The page names are derived from the CMS.


3 – Top searches
This displays the most entered searches (the "Hotlist" top 5 searches). The selection period is here always a year.
4 – Client browsers
This shows the browsers used by the customer.
5 – More
This shows three types of information:
the users who logged on using their credentials
the average number of requests in the session
the average session duration in minutes, seconds, and hundreds of seconds.
6 – Interface language
This displays the interface language used when Iguana is first accessed. This, obviously, is of particular use in multi-lingual sites
.
Availability
Iguana Metrics is part of V-insight version 4 service pack 2 and thus Generally Available.
Product
Library and Information Systems
Let's Connect
Contact us and we'll have a Business Development Representative contact you within 24 business hours