By David Dorf, VP Product Strategy
Last month IHL Group released a research study on the Retail Order Management software market. Infor Retail was included in the study as were several competitors. It's certainly a great resource for any retailer considering a purchase in this space. There were a few interesting take-aways that merit further discussion.
Order management isn't a new concept. It's an important component of any ERP and absolutely necessary to handle the transfer of product between suppliers, retailers, and consumers. But the advent of omni-channel has pushed OMS into the spotlight, making it a key foundation of not only the supply chain but also the customer experience.
As depicted by IHL below, OMS is the foundation upon which Unified Commerce sits. Without a capable OMS, retailers will limit their ability to serve consumers and ultimately fail regardless of the investments surrounding the OMS.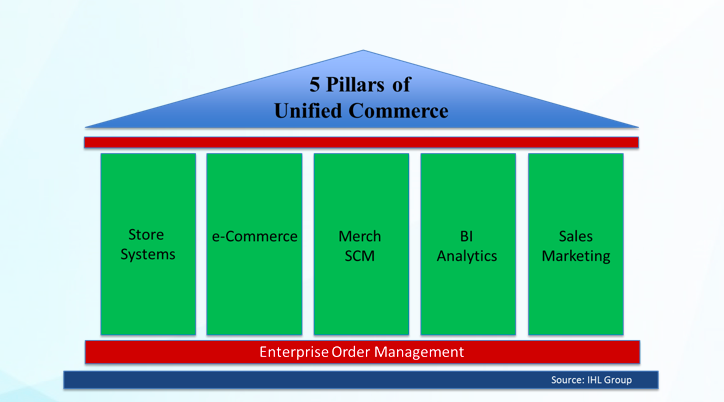 Image source: IHL
For this reason, IHL reports healthy worldwide spending by retailers on OMS, with a total market estimated to grow 63% to $1.16B by 2023. The majority of the growth is expected to come from SaaS versions of OMS that have been re-architected to better support the Unified Commerce vision.
And to that end, its necessary for OMS to facilitates purchase, fulfillment, and returns not only from multiple channels, but also using different combinations of channels. This, after all, is what consumers demand.

IHL notes that the most successful retailers have centralized order management, a single version of customer information across channels, are spending on technology, and are engaging customers across channels. They also mention most retailers have adopted a cloud-first strategy.

Image source: IHL
Infor's approach to Unified Commerce, which we call Converged Commerce, is very aligned with IHL's vision with some extra focus in three keys areas. To compete with the likes of Amazon, retailers must use their physical stores and employees as a competitive advantage. This makes store fulfillment a crucial capability powered by OMS. Retailers must be able to use their stores as warehouses from which product is shipped to consumers.
Second, omni-channel execution is only as good as accurate inventory visibility, which even includes inbound product not yet in the warehouse or store. Retailers are wise to extend their available-to-promise reach into the network all the way back to manufacturers. We found this so important that we named our OMS "Infor NetworkedOrder Management."
Finally, the use of machine learning for better forecasting and fulfillment decisions allow retailers to be more profitable, something that omni-channel has made difficult. Many factors, not just shipping cost, must be considered to determine the best way to fulfill an order. Things like shipping time, labor, and allocations can be used to improve those decisions resulting in more efficient fulfillment.
Any retailer looking to up their omni-channel game would be wise to start with their OMS.
Product
Converged Commerce
Networked Order Management
Region
Let's Connect
Contact us and we'll have a Business Development Representative contact you within 24 business hours