Infor CloudSuite Industrial APS Best Practices #14 – The standard promising process
If you want to be a reliable supplier to your customers, you must be able to make good on your promises. The key to delivering a successful outcome for your customers every time is to have a process that ensures the quality of those promises.
There's a standard five-step process we recommend.
You may have some factors in play at your site that may require you to deviate from this standard process. But this is a good place to start. If you can follow this process, you should be able to increase the quality of your promises and your delivery until you're making good on those promises almost every time.
Step 1: Establish your standard lead times
The very first thing you need to do is figure out how you're going to manage demand. One of our most senior APS consultants has put it this bluntly: "If you're not going to do this, don't use APS. If you manage demand, you have a chance to keep the promise."
So how do you do it?
Customer Service and Production need to agree on the lead time each item will have.
But how do you come up with that number?
It starts by having those two parties agree on the balance between safety stock and lead time. The diagram below shows the relationship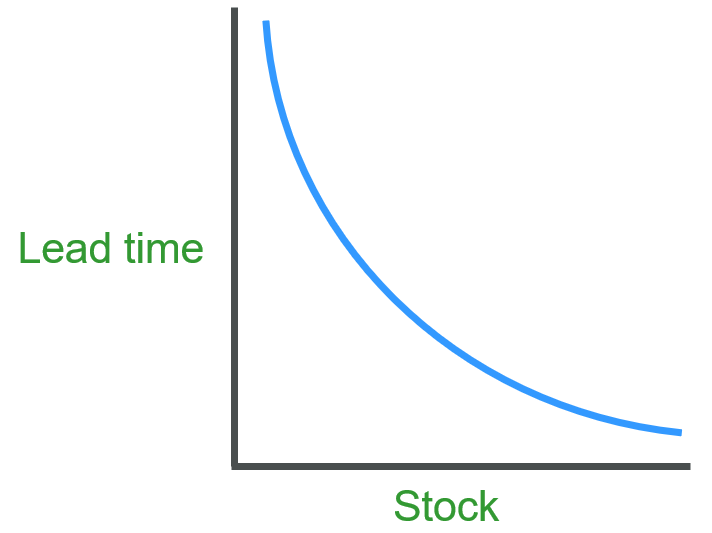 If you want to provide faster lead times to your market and you can't figure out a way to shorten your supply lead times, it will cost you in inventory. Conversely, if you want less inventory cost, it will cost you in lead times.
Take some time to answer these questions. What lead times will make you competitive in the marketplace? Can you reduce your lead times? What can you make to order? What must you make to stock?
Customer Service and Production need to agree on the balance. Have the key players come to an agreement on the most profitable and best way to run your company. Once you've agreed to that balance, you should have both your safety stock levels and your lead times in check.
Enter those realistic, agreed upon lead times into the Standard Due Period field for each item. And communicate these lead times to your customers.
Step 2: Establish the process for resolving exceptions
Your published lead times will help customers use the standard lead times when they send in orders. The Standard Due Period on the Items form will help your customer service reps use those lead times as well because when they manually enter an order line, the application will look at the order date and add the Standard Due Period to arrive at default due date for the line.
However, even if everyone is using the standard lead times, we know that the demand and supply situation is dynamic. And even if a standard lead time is conservative enough to cover most demand situations, there will still be times where you encounter sudden, unexpected shifts in demand that might require you take special actions to meet your lead times. As a result, you always want to verify the dates on the order lines are still accurate in the current situation. What happens when you see they aren't? What do you do?
Well, you need to identify a standard process for identifying, diagnosing, and resolving those issues. If you have customers that require immediate order verification, you'll need a standard process for resolving the exceptions that arise in those situations. If you have customers that are more flexible and are willing to wait twenty-four hours or more, you'll have a different process for that.
Either way, outline the standard policy and process you'll use to diagnose and resolve lines that are projecting late.
Step 3: Verify that the standard due date is feasible at the time of order
At the time of order entry, verify that your lead times are feasible given the current situation. There are three ways to do this with APS:
First, get ATP/CTP. However, we recommend you only use that tool when customers are on the phone and need immediate order verification. Second: In most cases, customers don't need immediate verification. They are frequently willing to wait twenty-four hours or more. In these situations, use Plan on Save. It's a lot less time-consuming to use. If you have the flexibility, the final method is to ignore the Plan on Save and simply wait for the next site plan.
The period of time between when the line is planned and when you need to provide order verification is your golden time to identify and address any issues you find.
Step 4: Troubleshoot lines projecting past the due date
When you see that the standard lead time isn't feasible, you need to figure out why and try to resolve the supply issue. Use the standard process you came up with in step 3.
If you are working with a customer that needs immediate order verification, explain you'll get back to them in the number of hours your procedure for exceptions specifies, then:
Use the Get ATP plan detail to identify the delay.
Work with the shop floor or purchasing to see what resolution you can provide.
Verify the customer will agree to that.
Enter the order line.
For all other customers:
Use Demand Detail to identify the cause of the delay.
Work with the shop floor or purchasing to see what resolution you can provide.
If you need to, contact the customer to make sure they will agree to it.
Update the order line's Due Date to what you can promise.
Step 5: Send order verification
At this point, you have worked through the process of making a good promise. Send the order verification.
Improve your process
Of course, there's one more thing you ought to do. As good as you are now, you can get faster. You can improve the accuracy of your standard lead times. And you can get better at troubleshooting exceptions.
So continue to look for ways to reduce supply lead times, including planning supply in a JIT fashion. Continue to look for ways to make your data more accurate. And continue to look for ways to make troubleshooting quicker and easier.
Over time your reliability and speed will increase. And that will help you become the kind of company your customers love to do business with.
Learn APS
If you're new to APS and would like to learn how to use it, take the official Using Advanced Planning and Scheduling course. It's taught in a self-directed video (US, non-US) and instructor-assisted formats (US, non-US).
If you already have a good handle on APS and would like advanced training, consider attending this year's TechEd. Sessions include:
Using Advanced Forecasting (entering demand)
APS planning parameters boot camp (modeling the site)
Tracking and improving your KPIs for planning (assessing performance)
Figuring out why an order is late (looking for trouble)
Find the detailed descriptions of the TechEd sessions here.
This post is part of a series about APS best practices. To see all the posts click here.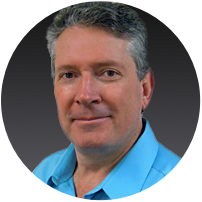 John Brown | Education Product Manager, Infor
John is the Infor Education program manager for CloudSuite Industrial. He joined the Education Department in 1999, back in the Symix days.

Filed Under
Cloud
Education & Transformation Services
ERP
Events
Manufacturing
Industry
Aerospace & Defense
Education
Product
Region
Worldwide
EMEA
North America
APAC
LATAM
Let's Connect
Contact us and we'll have a Business Development Representative contact you within 24 business hours