Infor EAM Maintenance Kiosk: No arm waving required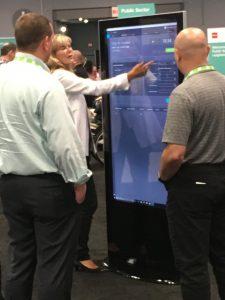 Software designed to increase maintenance productivity has to take a few things into consideration.
Maintenance technicians are on the go. They are outside, inside, under things, and on top of things. They are walking tracks, inspecting tunnels, and climbing ladders. So we already know that mobile access as well as new technology like drones make sense for field technicians.
But how about those who work in the shop? Does a standard desktop application suffice?
Nope. Well, not always. Technicians are the ultimate "hands-on" workers. They inspect, calibrate, lubricate, disassemble, and reassemble—and their hands get dirty. They get greasy. And they are busy. So stopping in the middle of an inspection or repair to access and manipulate a desktop application for specs, directions, or diagrams may not be very practical.
Bringing data to the shop floor
Enter the Infor EAM Maintenance Kiosk. It's a large—make that huge—touchscreen device that's easy for mechanics and other technicians to use while on the shop floor. Instead of having to go to the data, the data comes to them. The touch-driven experience brings up details like work assigned, required tools, and more—the same set of records that appear on the Infor EAM screen called Mechanics Workbench. It works in conjunction with Shift Scheduling in the main Infor EAM product.
The maintenance kiosk can be especially useful in any industry where mechanics or maintenance personnel need to manage entire fleets or other assets, such as in the transit industry. It directly links with other asset management systems in use to provide real-time updates for all parties involved. The app improves efficiency and provides more flexibility for mechanics in charge of maintaining large, valuable, and business-critical assets.
Infor once designed an application prototype for maintenance personnel that was activated by motion sensors. It worked like the Microsoft® Kinect video game console. The problem was that maintenance people are a cool bunch; they weren't about to stand in front of a screen, waving their arms and wiggling their hips to make something happen. Infor learned its lesson. EAM's maintenance kiosk is like a huge smartphone screen, with windows that link to needed information. And techs love it.
Give us a shout at 800-260-2640 or
eam@infor.com
to learn more about the Infor EAM Maintenance Kiosk.
Product
CloudSuite Distribution Enterprise
CloudSuite Facilities Management
Infor EAM
Region
Let's Connect
Contact us and we'll have a Business Development Representative contact you within 24 business hours