Infor Education presents 'Connected Learning' | Gold Coast, Australia | October 25th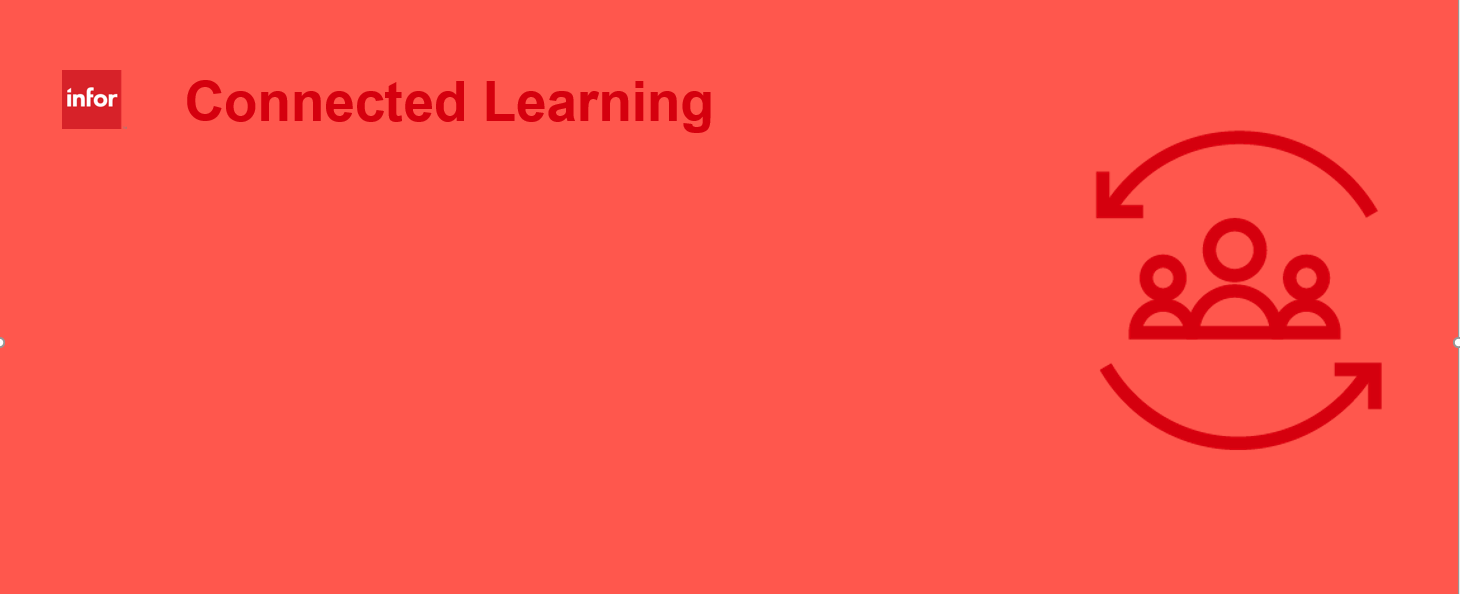 Connected Learning - Public training courses in a new format
Learn new core content and technology in a dynamic hands-on training class led by top Infor instructors.
The class is followed by extended access to your training environment and instructor for additional learning back at your organization.

If you are attending the Infor M3 User Network Conference Oct 23-24, 2018 at the QT Hotel Gold Coast, don't miss our Connected Learning event, on Oct 25 in the same venue.


Infor M3 Product experts Jean-Luc Meyer and Anders Karlsson will deliver these connected learning sessions:

Infor M3 Extensibility: Leveraging Infor OS to Personalize the User Experience
Learn how to leverage extensibility in Infor OS (Xi Platform) to personalize the user experience without a single code change. Jean-Luc Meyer will teach you how to:



Use Infor Ming.le and set up Homepages

Leverage users' navigational possibilities via ION enterprise search

Supply immediate operational reports via widgets, M3 information viewer, and M3 information monitor

Autocomplete item numbers, customer numbers, and account numbers while selecting them

Save brand new user-defined data in a designated table (CUGEX1) and use the new data in view definitions and ad-hoc reports

Define metadata of the new user-defined data and add additional information on any field (also using CUGEX1)

Infor M3 Integration: Integrate Infor M3 with Other Applications Using API and Business Object Documents (BODs)
In this session you will learn common integration cases and demonstrate some examples during this track. Anders Karlsson shows you how to:



Use Infor M3 synchronous integration with REST API

Use ION API to access Infor M3 from 3rd party applications

Configure API to get data from Infor M3 when no standard API exists

Call M3 API in ION Workflow and Homepage widgets

Integrate Infor M3 asynchronously with Business Object Documents (BODs) and Infor ION

About Connected Learning

Some of the unique features of Connected Learning:



Accelerated learning on the latest and greatest functionality with our most requested instructors

Dynamic class environments with hands-on exercises

Connect with and learn from professional peers in a conference-style format that includes more time for networking and socializing

Extended post-event access to live training environments and instructors where you can review and reinforce learning

Both classes will be held on October 25th. Lunch and refreshments are included.

Price: $450 AUD, plus tax


Register on Infor Campus. To register, you will need to have an Infor Campus username and password. Create your free Infor Campus username here. For assistance, contact InforCampus@infor.com
Filed Under
Education & Transformation Services
Events
Let's Connect
Contact us and we'll have a Business Development Representative contact you within 24 business hours