Infor Exhibiting at Congrès des professionnels et professionnelles de l'information, Montreal Nov 1-2, 2016
[caption id="attachment_310" align="alignnone" width="300"]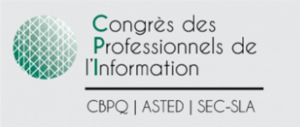 CPI Montreal 2016[/caption]



Infor is proud to be exhibiting at the premier CPI - Congress of Information Professionals in Montreal, Quebec on Tuesday Nov 1 and Wednesday Nov 3.

The theme for the premier event is Libraries and changing societies.

We hope that you can attend the CPI conference and get a chance to drop by to see the latest in mobile ready ILS and discovery products from Infor.

For more information on CPI please visit congrescpi.com.



Dave Alexander


Manager - North American Sales and Operations


Product
Library and Information Systems
Region
Let's Connect
Contact us and we'll have a Business Development Representative contact you within 24 business hours