Infor Health celebrates National Hospital Week

From reducing costs and supply waste, to managing clinicians and patient data, it's no secret the operations of a hospital come with many challenges. The healthcare industry continues to evolve and shift to meet the demands of value-based care and healthcare consumerism. I thought it was important to celebrate
National Hospital Week
May 6-12 because of the tremendous work that goes on in hospitals every day to save lives and provide quality patient care. It's important to recognize that it takes a village to run a hospital and provide patient care, whether it's at the bedside or behind the scenes. From physicians, nurses, therapists, engineers, volunteers, food service workers, administrators and more, these people all support the same mission: To provide the best care possible.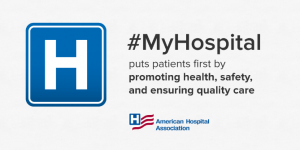 The American Hospital Association
provides resources to help promote this Week. Their key messages focus on patient empowerment by putting patients first and promoting health, safety and ensuring quality care. These messages align with Infor Health messaging to put patients first, regardless of the role you play in healthcare. A hospital runs 24/7, 365 days a year. There is no down time when a patient requires care, which is why hospitals need technology they can rely on to help run daily operations.
For healthcare organizations, Infor is the caring partner with a proven track record of success. We are born to care, providing a complete operational platform for supply chain, workforce management, financials, human capital management, and clinical interoperability. Our technology is designed to drive progress in the areas of connected health, affordability of care, real-time visibility, and employee potential. Healthcare is our first language, and we share your mission to improve the lives of patients and community health.
I'm proud to say that I work for an organization that offers solutions developed by healthcare professionals
for
healthcare professionals. This industry knowledge is critical for the end-user of a system to be able to provide the best care without disruptions or technical challenges. I want to thank our customers for choosing Infor as a partner to help them serve their communities and improve health outcomes.
How is your organization celebrating National Hospital Week? Please share below.
-Tim Brown, Chief Business Information Officer
Let's Connect
Contact us and we'll have a Business Development Representative contact you within 24 business hours