Infor M3 Food and Beverage Foundation: Your recipe for success
Want to stay fresh on industry topics, such as lot tracing, catch weight, sub-lots, quality management systems, and more? You can with Infor Campus's Food and Beverage Foundation Course. Discover industry best practices—from A to Z—as configured in the Infor Implementation Accelerator for Food & Beverage and hone your skills with our scenario-based embedded case study.
Ready to get started? -> Enroll Now

What's Inside

In the course's embedded case study, you'll use user-specific master data (marked in orange below). In our cucumber scenario, user identity FABSTU01 will manufacture sub-lot-controlled end item FB01CC. Other ingredients (marked in blue) are shared amongst other course participants, making the lot tracking a lot more engaging.
The cucumber scenario: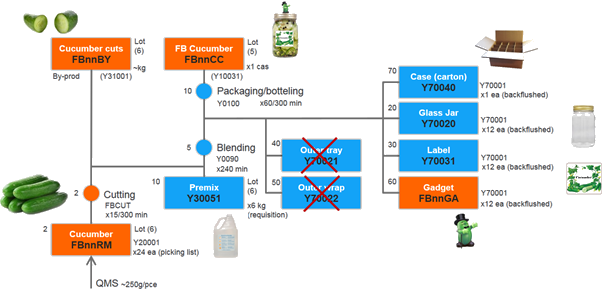 What You'll Learn
Sales budgets transferred into a forecast to drive distribution, material and capacity requirements planning (DRP, MRP, CRP)
Lot and catch weight-controlled ingredients (item FBnnRM), which also go through the quality management system (QMS) to be graded
Direct-put-away gadget items (item FBnnGA) without lot control
Back-flushed package materials
Premix that is shared by several recipes
Lot-controlled by-products during the production process (item FBnnBY)
Sub-lot-controlled end items (item FBnnCC), with a catch weight for each individual basic unit of measure (case)—all 300 produced cases of the end product will inherit the manufacturing order number as lot number, but the sub-lot number will be for each case individually
Graphical lot tracker (GLT) to trace every single (logistic) transaction
Tracking freight costs for outbound deliveries to both warehouses (distribution order) and customer orders
Accounting for every single logistical movement on the general ledger
Once you've gone through the case study, you'll continue with your own manufactured lot numbers and:
Reclassify them.
Use the graphical lot tracker to recall (sub)lot numbers that might be bacteria- or virus-infected to avoid costly bill backs from the customers. For example, salmonella was found in lot number 1805171001 for premix item Y30051. This lot number was used by all participants in the manufacturing to inventory process, affecting all FBnnCC end items.
Handle customer returns for the sub-lot-controlled end item.
Still hungry for more? You'll also learn about:
Reversed (or inverted) bill of materials: Start with livestock, end up with parts of the animal as end items
Attribute management: Attributes describe items and can drive formulas, formulas drive purchase costing markups
Inspection to approval process: Configured via QMS
Grower contract management (GCM): The farmer's ability to self-bill for produce delivered to the factory—go full circle from the grower (farmer) to the end consumer
Packaged items logistics: Handle cases/cartons, not individual item units
Subcontracted operations: A variant of the production to inventory process
Indirect procurement: Keeping business operational
In addition to learning how to set up the necessary master data to run the processes described in the case study, you can also try it from scratch and run the case study exercises with your own recipe. It's a great way to learn the Infor M3 features and functions within your own domain.
Ready to get started? -> Enroll Now
Any questions? Let us know via EducationEMEA@infor.com


Sven de Langhe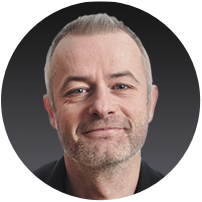 Principal Learning Consultant
Sven de Langhe is one of Infor's most highly regarded instructors. He is a certified, experienced, Principal Learning Consultant with extensive expertise in Infor M3 supply chain execution and order fulfillment suite of products.

Filed Under
Education & Transformation Services
ERP
Manufacturing
Industry
Chemicals
Distribution
Equipment
Fashion
Food & Beverage
Industrial Manufacturing
Product
Region
Worldwide
EMEA
North America
APAC
LATAM
Let's Connect
Contact us and we'll have a Business Development Representative contact you within 24 business hours