Infor MVP Alaa Abdrabou's focus on results powers customer success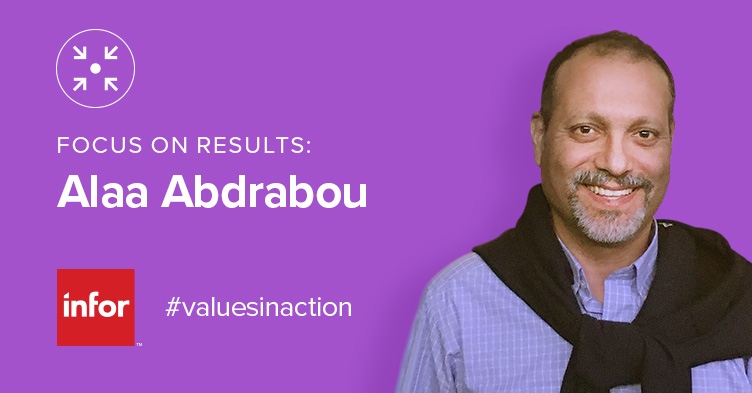 Every quarter, Infor celebrates employees chosen by their colleagues for their exemplary performance and embodiment of our Infor Core Values. Alaa Abdrabou was honored recently with an Infor MVP award for being one of those most valuable players.
Alaa's colleagues chose him for his "focus on results," which has contributed to his success throughout his career at Infor.
Alaa joined Infor in 2012 as a project manager for Infor EAM with Infor Consulting Services. He works from home in the New York City metro area. He's helped bring success to a number of big projects, and has earned the "Best Project Manager" designation twice.
"I've loved the job, especially meeting new clients and new consultants on each project," Alaa says. "I love seeing customers happy and successful, and I love leading them to success."
Alaa credits Infor management with nurturing him to be successful, and he appreciates the support he receives from his colleagues. "The Infor consulting community is amazing. The comradery makes it easier for us to act as a team when we're working towards a common goal."
Alaa is married with two children. In his free time, he enjoys listening to music, watching movies, photography, and film making.
Alaa is one of thousands of Inforians around the world that we're proud to have on our team, and who all contribute to make Infor such a great place to work. Way to go, MVP!
Filed Under
Education & Transformation Services
Infor culture
Product
CloudSuite Distribution Enterprise
Infor EAM
Region
Let's Connect
Contact us and we'll have a Business Development Representative contact you within 24 business hours