Infor MVP Eloisa Andre Gaona evinces a sense of urgency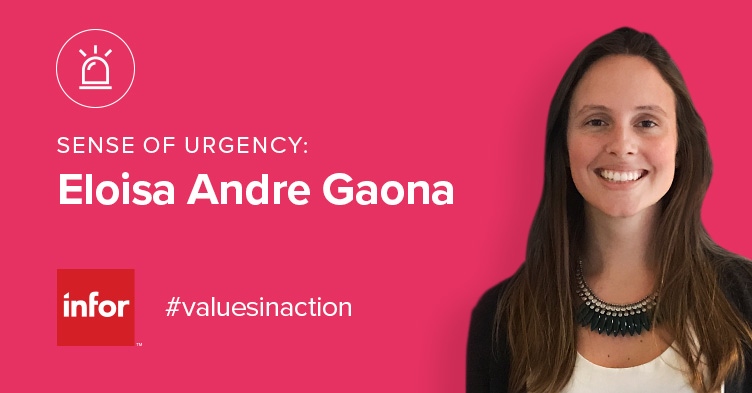 Every quarter, Infor celebrates employees who were chosen by their colleagues for their exemplary performance and embodiment of our Infor Core Values. These are our most valuable players, so we honor each with an MVP Award.
This quarter, one of our MVPs is Eloisa Andre Gaona, a senior marketing specialist based in Argentina whose sense of urgency (1 of our 5 Core Values) has earned her much recognition from her colleagues.
Starting in September 2015, Eloisa got her first taste of work at Infor on the Marketing Events Team at New York headquarters.
"I worked as an Infor Scholar intern for two semesters as part of the Infor Education Alliance Program while I was earning my master's degree at one of the member universities. I was hired full time once I graduated."
After earning her master's, she moved back home to Argentina to continue her work with the company, now focusing on demand generation strategy to build relationships with customers in Latin America.
For Eloisa, urgency just comes with the job.
"We're always striving towards our growth goal, so we're always on, moving forward, and ambitious. Having a small team and a lot of ground to cover has helped me learn to use my time and resources creatively and always with a sense of urgency."
She shares this mindset with our entire LATAM Team.
"I've been able to meet many Latin American Inforians from different departments in our various offices. Everyone is very warm and welcoming, and everyone displays a strong sense of community. It's great to work with them every day."
Eloisa is one of thousands of Inforians we're proud to have on our team, who all contribute to make Infor a great place to work. Congratulations, MVP!
Region
Worldwide
North America
LATAM
Let's Connect
Contact us and we'll have a Business Development Representative contact you within 24 business hours