Infor MVP Nander Speerstra is the guru of machine translation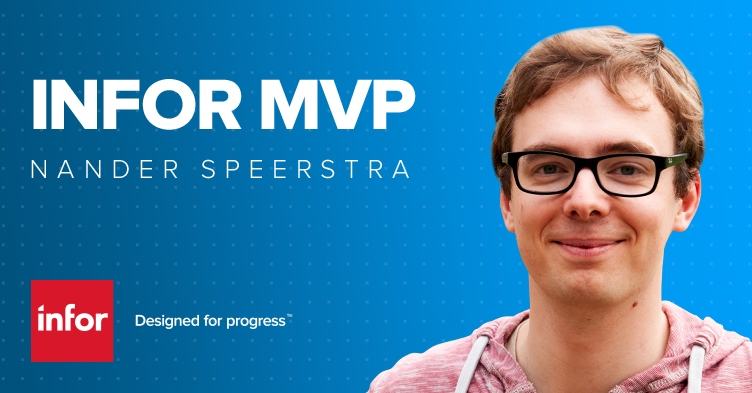 They call him their machine translation guru. Nander Speerstra is ever seeking translation enlightenment, and he cheerfully shares his insights with grateful colleagues.

"Nander created some custom tools and applications for our Documentation and Translations Department that have proven immensely valuable. They shorten workflows, automate tedious processes, and reduce our human translation scopes," one colleague noted. "He's constantly pushing the envelope on what our team of linguists and project managers can do to keep up with ever shorter and more frequent product release and translation cycles."
Nander is the only member of Infor's machine translation "team." He works as a machine translation researcher at our Barneveld, Netherlands, office. Most of the machine translation projects are on product documentation for up to 8 languages.
"I also work on the docs.infor.com website, and I write tools for colleagues to automate recurring tasks. In the past few months, we also had some successful tests with user-interface projects. My never-ending goal is to increase the number of languages and projects for which we can use machine translation. It's a cost-saver."
His coworkers so appreciate "his unbridled commitment and indomitable thirst for improving the working method of translation and lowering costs," they decided "his great achievements" needed to be honored. So they nominated Nander for an Infor MVP award, and he was chosen. Each quarter, Infor celebrates some of our most valuable players selected by their peers for their exemplary performance and embodiment of our Infor Core Values.
"I could recommend Nander on all five of the Infor Core Values," one colleague said in his nomination. "He is always willing to help and get things done, sharing his experience and insights in the best way. He is also always learning as well. He is academic and pragmatic. He can even patiently convince third parties to improve their tools to better fit into processes he automates."
"Having a thirst for innovation is necessary in every part of my work," Nander says. "Whether it's about machine translation (with neural networks as the Next Big Thing) or software tools, keeping up with the latest trends makes the job of a developer more fun and effective.
"Because I am the only member of the machine translation team, I often have to figure out everything myself. Sometimes, I do not have the know-how to resolve a problem on my own, and then I have great colleagues willing to help out. Even though our team is spread across the globe, I always have the feeling that distance doesn't matter. In the end, no problem stays unresolved in our team!"
Nander's officemates also appreciate his knack for bringing people together for social events. "He has a great sense of community, organizing Christmas parties and sports activities. His enthusiasm is very encouraging!" one colleague reported.
Guess Nander's favorite leisure activities—playing board games, accordion, and piano—come in handy then, too.
Region
Worldwide
EMEA
North America
Let's Connect
Contact us and we'll have a Business Development Representative contact you within 24 business hours