Infor MVP Rhea Mendoza has a passion for customer success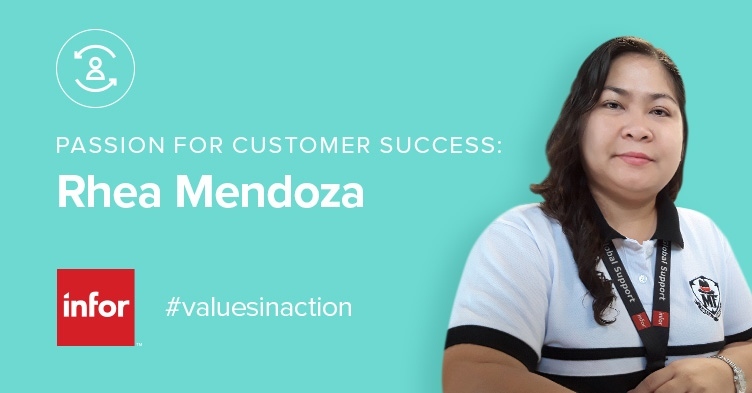 Rhea Mendoza has been supporting Infor customers as a technical engineer for more than 10 years, troubleshooting their issues and making sure they get what they need fast. She is good at solving problems, and she is passionate about our customers' success.
That's why her colleagues nominated Rhea for an Infor MVP award recently. Each quarter, we celebrate some of our most valuable players chosen by their peers for their exemplary performance and embodiment of our Infor Core Values.
Rhea is now a senior manager of Infor Support operations for the APAC region. She is responsible for support teams in the Manila office covering Infor Operating Service (OS) technical, business intelligence, Business Vault, Infor Reporting, Mongoose, and Infor Risk and Compliance.
One challenge she navigated recently was coordinating with her Manila team to resolve several payroll issues for US customers. By collaborating with the appropriate resources and working through online meetings lasting up to 8 hours, Rhea helped the team resolve the outstanding issues before the US customers began their day, so they could continue with uninterrupted normal business operations.
Teamwork is essential to accomplish such tasks, and Rhea gives credit to her team and colleagues.
"The best thing about my team is they are great team players. They're dedicated and always ready to provide excellent customer experience," Rhea says. "It's easier to work with people when you know that everyone is committed and working hard to achieve the same goal."
Outside of work, Rhea keeps working. "I'm an entrepreneur. I run my own apartment rental business, and I also distribute natural health and wellness products locally and internationally." She also loves to cook and spend time with her husband and 2 kids.
We're proud to have Rhea on our team. Congratulations, MVP!

Region
Worldwide
North America
APAC
Let's Connect
Contact us and we'll have a Business Development Representative contact you within 24 business hours