Infor MVP Verr Ivan Puato cultivates his thirst for innovation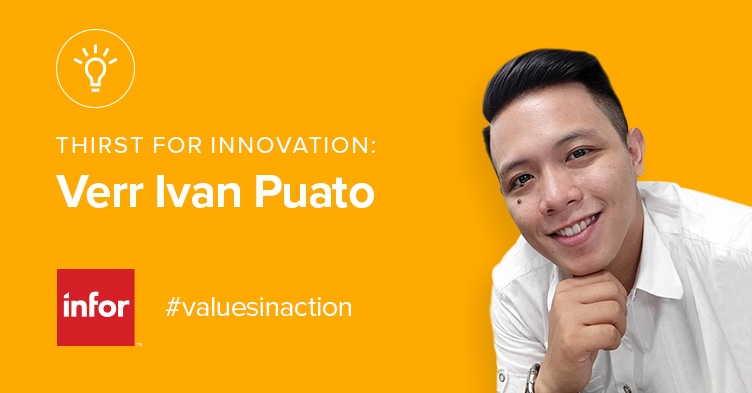 Every quarter, Infor celebrates employees chosen by their colleagues for their exemplary performance and embodiment of our Infor Core Values. These are some of our most valuable players, so we honor each with an MVP award.
Verr Ivan Puato is another of these MVPs. A software engineer in our Manila office in the Philippines, his willingness to try new things has earned him respect and gratitude from his team.
After earning a bachelor's in information technology, Verr realized that business intelligence was an exciting, emerging field, and that led him to intensively pursue knowledge of the technology. He was hired by Infor as part of the Green Bean Program, which trains and mentors early career recruits. While his first few months had their challenges, Verr's team was delighted to receive the right tools for what they needed when Infor acquired Birst, the best-in-class cloud BI and analytics platform.
"The Infor BI tool was our best option for some time, but when Birst came along, we learned that incredible tool, so we could give our customers the best possible results," he said.
Verr has plenty on his plate as a software engineer, and his natural curiosity has helped him find new ways to get his work done more efficiently. "Every time we are trying new things, I always dive in and dig into how we can best use each new resource and tool we have."
That thirst for innovation is one of our Infor Core Values. And Verr gladly shares his insights with his colleagues. He also represents his team to multiple stakeholders outside of the organization.
After being named an MVP, "I made a vow to myself that this award would not mark the peak of what I can contribute, but rather it is a symbol that I can do more, and that I can be a motivation to my colleagues to strive harder and reach higher."
Product
Region
Worldwide
North America
APAC
Let's Connect
Contact us and we'll have a Business Development Representative contact you within 24 business hours