Infor TechEd for EAM - Day 2: Highlights
The second day of the 2019 TechEd for EAM in Denver, Colorado is a wrap! For those who couldn't attend or may have missed the event, here is a look at the highlights from day 2:
CUSTOMER PANEL: We kicked off the day with an Infor EAM customer panel. Joined by EAM Evangelist Kevin Price and Edu Product Manager Laura Tait, were three brave souls (aka EAM customers) Alan Winter Tier 3 Support for FirstGroup, Jose Medina, DBA/ Application Support for Old Dominion Electric Coop, and Matt Johnson IT Functional Admin for Central Arizona Project. While things like moving to the Cloud, and quality improvement cycles all played a role in how each of their businesses run efficiently, the one common theme was how mobile is continuously making incremental improvements in efficiencies. Alan preached the importance of JIT micro-learning and getting the right training content to his team fast, and everyone else agreed how important it was to deliver crucial content to their employees at the right moments on mobile.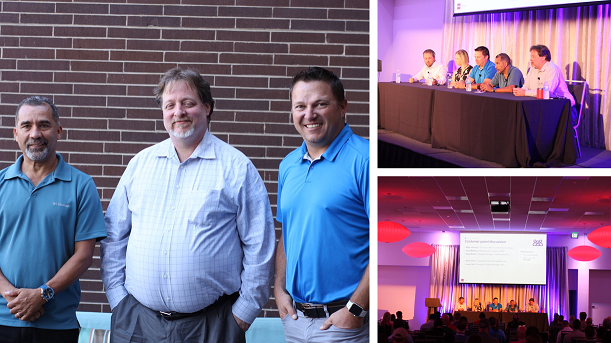 GAMIFICATION: Infor EAM has more than 500 install parameters and organizational options. During a breakout session, Senior Learning Consultant Melissa Kruminas talked about the hidden power of install parameters and organization options. The session provided an overview of the types of install parameters and organizations options. When preparing for the session, Melissa was concerned that the subject would be dry, and attendees would be turned off. She decided to run a Bingo game where the attendees marked each parameter that was mentioned and the person that got Bingo would get a gift. The approach was a hit! Dennis Hyde commented, "It was fun and helped me to focus on the materials."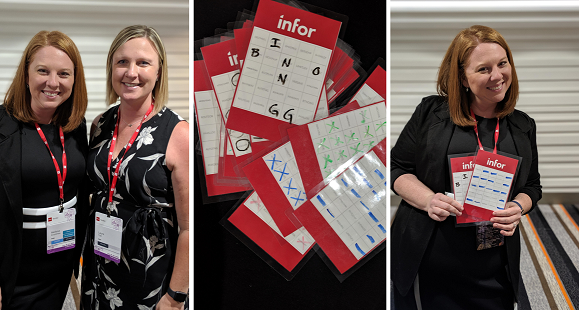 MOBILITY: Mobile was a hot topic! Leveraging portability to deliver important content, notifications, and training to end users was all the rage. Breakout session Mobile Flex and Notifications with Solution Architect Daniel LaFerla and Director, Consulting Practice Christopher Dupre gave EAM power users the tools they needed to build custom notifications and real-time validation for EAM mobile apps.
To stay ahead of the curve and to learn more about EAM mobile apps and how you can leverage the power of mobility, watch this complimentary webinar recording.
Filed Under
Education & Transformation Services
ERP
Events
Manufacturing
Industry
Automotive
Aerospace & Defense
Chemicals
Construction
Energy
Equipment Dealers Rental & Service
Food & Beverage
High Tech & Electronics
Industrial Machinery & Equipment
Industrial Manufacturing
Product
Region
Worldwide
EMEA
North America
APAC
LATAM
Let's Connect
Contact us and we'll have a Business Development Representative contact you within 24 business hours