Inforum special session showcases the power of women
Pam Murphy founded the
Women's Infor Network
(WIN) three years ago to provide a forum for female professionals to network, discuss common challenges, and support each other in their careers and personal growth. The Infor COO's timing was perfect. Representation of women in technology-related fields has been declining steadily for 25 years. In 1991, women held 36% of computing roles; today, it's 25%. And women earn just 28% of computer science degrees. But growing public awareness of this imbalance is beginning to turn the tide.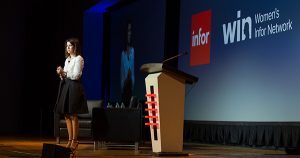 The powerful and inspiring women who came to New York to address this year's
WIN Special Session
at Inforum attests to that. Their collective message: set big goals, support each other, and never give in to naysayers.
Tan Le
, a pioneer of human brain research, told of her journey from Vietnamese refugee to starting and selling a successful technology company at age 26 to founding EMOTIV, a company that has developed breakthrough technology for connecting digital media to the human brain.
"What will happen in next few decades is more astounding than what's happened in the last 1,000 years," she said. She urged the audience to follow their dreams, even if they sometimes seem unrealistic. "You'll often be told it can't be done, but if you have the courage to pursue your goals, then 'can't be done' becomes a challenge rather than an insurmountable obstacle," she said.
That's the attitude
Reshma Saujani
adopted when she quit a lucrative but unfulfilling job in the mortgage-backed securities industry so she could run for the U.S. House of Representatives in 2010 against a 17-year incumbent in Manhattan. She was the first Indian-American woman to run for Congress, and she had no political experience. Not surprisingly, she lost. But her experience while visiting schoolrooms across the state during her campaign sensitized her to the growing technology gender gap. "I went into classes and saw all these boys clustering around computers wanting to become the next Steve Jobs," she said, "and I wondered, 'Where are all the girls?'"
That catalyzed her to start
Girls Who Code
, a national nonprofit that seeks to close the gender gap in technology. Saujani believes that women are technology's great untapped resource. "There are 500,000 open computer jobs in the U.S., but we're only graduating 40,000 computer science majors a year," she said. "What's the solution? Girl power."
Girls Who Code has turned 40,000 girls on to computer science over the past five years, and 90% go on to major or minor in the field. We won't close the gender gap until we stop protecting girls from failure and letting them get their hands dirty, Saujani said. "Let your girls fix things," she exhorted the audience. "Put a drill in their hands. Let them fix the toilet. Teach them they can do anything and everything."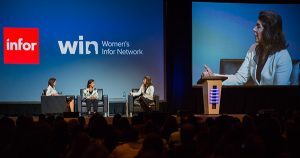 Two women who have risen to the top ranks of their profession in service to their country then took the stage for a discussion with Infor's Murphy about U.S. national security and the battle against terror. Farah Pandith was formerly special representative to Muslim communities for the U.S. Department of State, and Susan Rice was U.S. national security adviser and ambassador to the United Nations in the Obama administration.
While the topic of their discussion didn't concern women in technology, their presence at the WIN Special Session testified to the influence the network has built. Both Rice and Pandith urged the technology community to use the tools that young people choose to communicate to build a culture of inclusiveness and combat the isolation that makes good kids vulnerable to messages of hate.
"We have made great progress in intelligence-gathering and prevention, as evidenced by the fact that we have not had a foreign-directed terrorist attack since 9/11," Rice said.
"There are some problems that are unsolvable," Pandith said "[Terrorism] is not one of them. The solutions are available and affordable."
Dr. Jill Biden, educator and former second lady of the United States, sent her listeners off on an inspirational note, detailing her own story of how she raised a family while pursuing her dream of becoming a teacher. Through 15 years of working and studying at night, she earned two master's degrees and a doctorate, eventually becoming professor of English at Northern Virginia Community College.
"We all struggle to find balance, but let's not kid ourselves; women carry a heavier share of the burden," she said. "From caring for families to caring for aging parents to questions about how and whether to have kids, we're pulled in all directions. But when we lean on each other, we push through."
Although not comfortable at first with her celebrity following the 2008 election of her husband Joe Biden as vice president, Jill Biden said she persevered so as not to give up an "incredible opportunity. I wasn't the perfect vessel, but I put myself out there and took the risk," she said. And as her speaking skills improved, she used her pulpit to deliver messages of empowerment to women across the country.
Empowerment like that afforded by WIN. "Women can do powerful things when they come together," Biden said. "That's why these types of networks are so important."
Let's Connect
Contact us and we'll have a Business Development Representative contact you within 24 business hours