Innovation in manufacturing from 3 expert perspectives
Infor and
IndustryWeek
recently hosted a panel discussion on the front-line issues surrounding innovation in manufacturing. Professionals from academia, solution development, and system design participated, each sharing their unique perspectives. The three views combined to create one multi-dimensional depiction of innovation, its potential impact, and the challenges ingrained in deploying innovative technologies.
Data-driven research and learning

Andrew Dugenske, from the Georgia Institute of Technology, presented the academic view of innovation. Highly respected for its top-notch engineering programs, Georgia Tech was included in
US News & World Report's
ranking of 2018 top engineering schools, placing #4 for undergraduate engineering and #7 for graduate engineering programs. Dugenske is director of factory information systems at Georgia Tech, and president of Factory Right, a software program he developed for manufacturing.
When asked about his experience with innovation and disruptive technologies, Dugenske said Georgia Tech has an extensive program for working with manufacturers.
"They come to us seeking impartial advice," he said. Among the companies Georgia Tech has worked with are well-known names like Siemens, Boeing, Nortel, Panasonic, and Steelcase.
"Each of the companies has a different goal, and that is always where we need to start — defining exactly what the business problem is," Dugenske said. "Then, we can formulate tactics, sometimes a small change, sometimes a massive proposal to be deployed in stages."
Prototyping and testing are key stages of the partnership with manufacturers, Dugenske said.
The Internet of Things (IoT) is one of the most disruptive technologies to manufacturing, Dugenske added as he shared some startling statistics from
www.Industrial-IP.org
, including:


50 billion devices are expected to be connected through the internet by 2022.

$14.4 trillion value at stake from the Internet of Things can be realized by 2022.

Manufacturing will see 27% of the total value at stake, or $3.88 trillion, over the next 10 years.

$675 billion will be saved by companies because of greater labor efficiencies from the IoT.

Smart devices will yield $729 billion in savings from eliminating waste.

Georgia Tech holds annual IoT workshops to help organizations understand how to leverage this technology.
Applying innovation: condition-based monitoring of assets

The next guest speaker provided some use-case examples of organizations that have turned innovative ideas into practical applications with bottom-line results.
Infor's Steve Beard focused on the use of IoT technologies to improve the management and maintenance of shop floor assets. A wide variety of tactics can be used to capture, transmit and analyze the data—transforming information into automated action. Telematics, GPS/GIS, SCADA/PLC, and drone technologies all play a role.
Telematics can also be used by organizations to manage a fleet of vehicles, such as service vans or delivery trucks.
"Manufacturers can capture data on their cars and trucks that help them reduce costs and improve productivity — like vehicle tracking, fuel efficiency, run time, and mileage," he said.
He explained that GPS (global positioning system) publishes X/Y coordinates, while SCADA/PLC (supervisory control and data acquisition / programmable logic controller) captures a plethora of metrics — everything from vibration analysis to speed, power usage, voltage, and run time.
In addition, drones can actually perch and stare, take videos and laser scans of equipment, replacing many dull, dangerous, and dirty inspection routines. Beard then shared some examples of sensor technology at work, taking abstract IoT concepts and transforming them into real benefits.
Telematics:
An Infor customer, one of the largest privately-held companies in the United States with over $23 billion in annual revenue, has been integrating telematics-related data into its enterprise asset management (EAM) system for several years. The company delivers more than 600 million cases of food and beverages around the world, and has more than 90 warehouses around the globe and a US fleet alone of nearly 3,000 trailers and almost as many power units.
The company deplo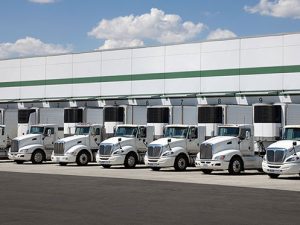 yed Infor EAM to create a transactional backbone to manage all of the data needed to effectively maintain its fleet assets and comply with regulatory reporting requirements. Up to that point, data was collected and stored in a variety of disparate systems, including data from EOBR (electronic on board reporting) devices. These devices capture mileage, fuel consumption, miles per gallon, and unit performance data, among other things.
By integrating this data with EAM, the company was able to drive improvements in performance management optimization and compliance, accuracy in fleet cost assessments and staff utilization, along with more informed capital asset acquisitions. With EAM serving as a central repository, it developed a weekly labor utilization scorecard that gives visibility into labor costs in all of their distribution centers. Accordingly, the company has been able to achieve 50% savings on booked labor.
GPS:
The agricultural business of the 21st century is moving towards precision farming, that is, leveraging advances in technology to improve the productivity of every square foot of land. Precision farming helps reduce waste, optimize labor, increase profits, sustain the environment, but even more importantly, precision farming will help farmers derive greater yield from a limited resource to feed a growing global population.
An Infor customer, one of the largest produce farming operations globally, employs over 5,000 employees and grows, produces and ships carrots worldwide. To plant, harvest, clean, package and deliver these food products across its network of partners, the company relies on physical assets of all types, from tractors and harvesters to transport vehicles and irrigation systems. When assets fail, crops can't be harvested, packaged, and delivered to consumers. The solution was to make EAM, including condition monitoring and asset performance, a strategic initiative.
Servicing the variety of critical fleet vehicles was complex, as the vehicles were continually moving and performing vital operations. The solution was rather simple. GPS devices were installed on each of the critical vehicles. These devices not only provide GPS tracking systems, but they also track basic vehicle usage data, like miles and minutes. The data captured within the GPS devices is passed to the Infor EAM solution through an Excel-based utility import tool. The data metrics are then used to generate timely work orders with GPS coordinates so that as technicians are dispatched, they know exactly where the vehicles in need of service are located.
SCADA:
Another Infor customer is the 3rd-largest wastewater treatment plant in Colorado for 2 of the state's largest cities. It receives sewage from 20+ districts, and the plant is capable of handling 50 million gallons per day. Its current daily load is about ½ that volume. The plant has approximately 10,000 assets including pumps, motors, blowers, boilers, storage and holding tanks, linear pipe, facilities and more. Many of these pieces of equipment have distinct operating systems that track system run time and performance. Software is used to capture, process, analyze, and store real-time operational data and events like pump speed, temperature, and flow in order to analyze operational anomalies and correlations and to measure energy consumption.
This data is then fed to Infor EAM. When either metric falls outside of predefined thresholds for more than 7 days in a row, the EAM solution generates an email notice with an embedded link that allows a supervisor to immediately access the asset record, review the readings, and decide whether to create a work order. Using IoT in this way not only keeps pumps running efficiently but it also optimizes the maintenance process and prevents waste in labor and materials.
Transforming products and data

The next guest speaker was Neil Gatenby, business architect with Enterprise Services in Thales, Australia. Thales is world leader in mission critical systems and solutions serving 5 market sectors: aerospace, space, defense, security, and transport. It is a worldwide group with 61,000 employees, a presence in 56 countries, and $17.6 billion in annual revenue. Last year $3.75 billion was invested in R&D.
Innovation is a primary focus of Thales, said Gatenby, especially in industries like defense. "When you're putting lives at stake, you need to be sure you are providing users with the very best available, the most advanced applications you can. They need every advantage you can provide."
Advantages often come in the form of data. The challenge is how to apply this data so it provides a tactical gain without causing security risks. Then there is always the obstacle of how to leverage legacy systems to new technology, Gatenby added.
When considering new technology and a digital transformation, the key is to extend the life of existing technology, while also adopting new capabilities. There must be a balance. Gatenby went on to explain that Thales had to choose a priority area for first stage deployment. It chose operational processes, including process improvement, worker enablement, and performance management.
This means focusing on bridging the information technology (IT) and operational technology (OT) gap. Gatenby referred to it as "the place where the virtual world of IT systems meets the physical world of devices." For Thales, that could be machinery and equipment in the plant, an armored jeep behind enemy lines, or naval platforms servicing a fleet. Gatenby provided some tips learned through his recent deployment of technology.
How to bridge the two worlds of IT and OT via operational excellence:


Manage people; control machines and processes. Always strive to generate value.

Measure productivity rates—not numbers of products.

Aggregate data—but also disaggregate for specific needs.

Centralize and distribute: Aim to achieve holistic consistency, not silos.

Integrate and interoperate. Leverage visibility and collaboration.

How does your company compare?

The webinar wrapped up with some industry statistics, showing results of a survey conducted by
KPMG of CEOs
on their business outlook. Several questions dealt with opinions about disruptive technology and pace of change. The results show CEOs have some concerns in this area.


75% of CEOs say they worry about new entrants disrupting the business model.

73% worry about keeping current with technology.

70% worry about the competition's ability to take away business.

65% worry about product and service relevance 3 years from now.

On the other hand, managers were more optimistic. The KPMG survey asked managers, largely in operational areas, their view on innovation and technology adoption. The survey found:


53% of managers say they are already hard at work disrupting their industries.

52% are "current" on technology.

48% say their technology is cutting edge.

This disparity in perception clearly indicates the executive and managers have work to do. Communication about the vision vs. execution must be a priority.
What can you do to make sure your company encourages, nurtures, and adapts to the high rate of innovation?
Helpful links
Let's Connect
Contact us and we'll have a Business Development Representative contact you within 24 business hours