Intelligent learning takes more than a minute and 13 seconds
So in a moment of 'I wannabe a Millennial' weakness, I bought a hipster bike online this weekend. It arrived last night in a cardboard box, and once the excitement of arriving home to a massive brown box on my front porch expired, I realized that I was going to have to roll up my sleeves and assemble the bike. To some, this is an exciting challenge; to me, this was quite daunting. I struggle assembling my son's advanced Star Wars lego sets, so the idea of putting brakes, wheels, and gears together caused me to break out in a cool sweat.

Regardless, there was a handy dandy instruction manual in the box that had only one page in it…which was a printed YouTube address (as I said, very Millennial). I pulled out my phone, opened YouTube, hit the address, and up popped a 1-minute, 13-second video. At this point, I realized I was in trouble. This video was presuming far too much regarding my bike assembling capabilities. 1:13!! For real?!

So here's what's frustrating. All of us (Millennials or Try-hard Millennials) are so compressed for time that any content served up for us has to be expertly curated for us to even check into it, never mind complete it and, more importantly, learn from it. Too short--I'm frustrated because I have to go get additional content somewhere else. Too long--I'm frustrated because the content is boring. So in a world of 140 characters, how do we create meaningful learning experiences curated for each employee based on their preferences and learning styles?

Enter Intelligent Learning.

Think about a Learning Management System (LMS) that knows what content to provide to each user based on their own custom strengths and opportunities. Think about delivering an online training course to a new hire class, but having each new hire's experience unique based on their preferences and styles of learning. How much greater compliance, how much greater engagement, how much better adoption would you get?

The answer: meaningfully different.

In the modern world, we have to think about integrating different systems so that the whole becomes significantly greater than the sum of its parts. This is what happens when you integrate a highly predictive behavioral assessment with a modern LMS. The assessment feeds the LMS highly-customized insight on the new hire's strengths, weaknesses, learning styles, and opportunities. The LMS processes this information and dynamically curates custom content specifically for that user and his/her learning preferences.

The smartest companies have already adopted the concept of Intelligent Learning. They've realized that not every new sales hire has to go through the same 4-hour sales training video regardless of what they are bringing to the table, or that not every mechanic needs to go through a painstakingly detailed training on a process despite the fact they can already do it in their sleep. They've recognized that maximizing employees time with relevant and specific content increases the likelihood of a successful learning experience and a more engaged and knowledgeable workforce.

Interestingly, Infor is already doing this. We own a highly predictive behavioral assessment engine (Infor Talent Science) and an incredibly flexible LMS (Infor Learning Management) capable of receiving open APIs to intelligently power its content. Our best clients are using this tight-knit integration to more intelligently curate specific learning content for each new hire automatically. Content is served up to individuals based on their specific learning styles. To take my earlier bike experience as an example, if I am high energy, then maybe I only have the patience for a 1:13 video (clearly not me). But if I'm super analytical and detail oriented, then the best part about getting that type of package in the mail is trying to figure out what the heck the printed instructions are actually saying. It's a puzzle to be solved and could be someone's favorite way to learn. Through Talent Science we can personalize the content for each individual based on who they are and how they learn. With Infor Learning Management, we have a highly flexible and customized engine to power and track intelligent learning.

So anyway, back to my bike. Anyone know a good bike mechanic?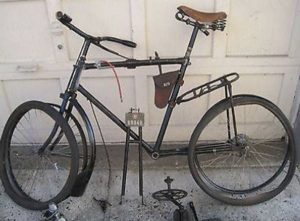 Oliver Yates, VP, Sales, Infor
Product
Learning Management System
Region
Let's Connect
Contact us and we'll have a Business Development Representative contact you within 24 business hours