Intersystems' IRIS & our products
This week's blog post features an article about our products and the IRIS platform, written by Intersystems in French.

You find the article (in French) via this link: 2021 05 archimag 344 gouvernance de linfo Interview Infor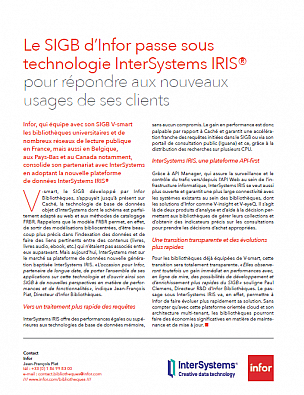 In English this would be:
Infor's LMS switches to InterSystems IRIS® technology
to meet new customer use-cases
Infor, which equips university, public and special libraries in 15 countries including France, Belgium, the Netherlands, USA, Canada and Australia with its LMS (Library Management System) V-smart, consolidates its partnership with InterSystems by adopting the new InterSystems data platform IRIS®.
V-smart, the ILS developed by Infor Libraries, has previously relied on Caché, InterSystems' object database technology whose schema is perfectly suited to the web and FRBR cataloguing methods. The FRBR model allows libraries to move away from bibliocentred models, to be much more precise in the indexing of data and to make relevant links between content (books, audiobooks, ebooks, etc.) which were not associated with each other before. Today, InterSystems is bringing its next-generation data platform called InterSystems IRIS to market. "This is the opportunity for Infor, a long-standing partner, to bring all of its applications to this technology and thus open its ILS to new perspectives in terms of performance and functionalities." says Jean-François Piat, Director of Infor Libraries.
Towards faster processing of requests

InterSystems IRIS offers performance equal to or better than memory database technologies, without any compromise. The gain in performance is therefore tangible compared to Caché and guarantees a solid acceleration of requests initiated in the LMS or via its public consultation portal (Iguana), thanks to the distribution of searches on several CPUs.
InterSystems IRIS, an API-first platform
Thanks to the API Manager, which ensures the monitoring and control of traffic to / from the Web API within the IT infrastructure, InterSystems IRIS is also more open and guarantees greater connectivity with existing systems within the IT infrastructure, including Infor solutions like V-insight and V-eyeQ. These are two analytics and decision support products that allow libraries to manage their collections and get accurate metrics on visits to make appropriate purchasing decisions.
A transparent transition and faster evolutions
For libraries already equipped with V-smart, this transition will be completely transparent. "However, they will see an immediate gain in performance with the potential for faster development and enrichment of the ILS." says Paul Clemens, R&D Director of Infor Libraries. Switching to InterSystems IRIS will indeed enable Infor to develop its solution more quickly. Not to mention that with this cloud-oriented platform and its multi-tenant architecture, libraries will be able to achieve significant savings in terms of maintenance and updates.
Product
Library and Information Systems
Let's Connect
Contact us and we'll have a Business Development Representative contact you within 24 business hours