Is voice your operating system of the future?
Tell my ERP system to run my reports for me? Yes, please.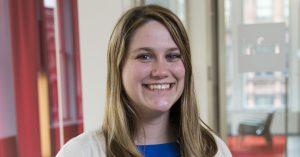 Last year, I discovered the power of five amazing words: "Alexa, order more toilet paper." I don't know about you, but when it comes to things I don't want to run out of, toilet paper is pretty high on the list. Before long, I was drunk with the power now vested to me through my voice, making sure my family was never in short supply of everything from cereal to trash bags.
The incredible thing is not that Alexa results in things being brought to my door. I can achieve that by logging on to my computer or even (gasp!) picking up the phone. Where Alexa is superior is in her ability to give me more flexibility, more freedom, and more of that ever-precious, ever-in-short-supply resource – time. I don't have to find a device or log into an account. I don't even have to sit down. I can add things to my list any time I want and (in that multi-tasking, stream-of-consciousness way of modern life) as I remember to do so.
If only similar super powers were available at work.
Well, soon we could all very well have them, as "if only" is rapidly on its way to becoming reality. It does, in fact, exist in limited form today. One example is my own company, Infor — a global provider of enterprise business applications — which is already piloting voice commands for administrative tasks, like setting an out-of-office reply or entering vacation requests. These commands are executed by a digital assistant known as Coleman. You can learn more about its potential (and the inspiration behind its name)
here
.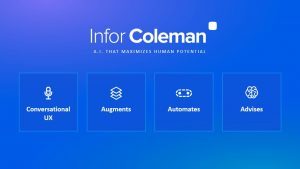 But what about more-complex tasks? Imagine using voice commands to check inventory levels at your supplier's warehouse in Shenzen; get the order history for a customer; run reports and have them automatically distributed to stakeholders. The opportunities are endless.
Now let's think even bigger, going beyond tasks to interaction and advisement. In this type of scenario, after you ask for inventory levels in Shenzen, you'll also be able to request a recommendation for alternative suppliers. When you request that reports be run, you can ask for a verbal synopsis and recommendations on addressing any issues that might have been identified. On go the possibilities. This is where the concept of
cognitive artificial intelligence
comes into play, with devices learning over time and becoming proactive, rather than just reacting to commands.
While these capabilities are further out on the horizon, they are now within sight, making the concept of voice as your primary operating system one that could very well become reality. What would it mean to the productivity, creativity, and inventiveness of a workforce if it could be freed from time-consuming, largely administrative tasks and have the time to focus its energies elsewhere? And will there be a time when we come full circle and no longer have computers sitting on our desks, defining our days, and giving shape to work as we have come to know it? Difficult, but also cool, to imagine.
At Infor, we couldn't be more excited about the possibilities and our role in helping to make them a reality. Follow us for more discussions about the technologies, ideas, and people who are designing tomorrow.
— Emily Williams, Infor product management director
Let's Connect
Contact us and we'll have a Business Development Representative contact you within 24 business hours