It's not just you relying on your CRM data
Have you ever been to a live performance whether a sporting event or a musical performance? One of the main things the performers try to do is reach out to the audience so they will keep coming back for more. How do you reach out to your audience in CRM to get them consistently coming back for more? More data, more information that is. Let's take a look at a few examples that illustrate what I am talking about.


Last week I had gotten off a call with one of our customers concerning a particular product they were considering. Of course, I wanted to capture this conversation in CRM because they had disclosed several requirements to us.


The problem I came across very quickly was where do I put this data to attract and satisfy my corporate audience. Under the account record? Which one? There were several accounts with the same name and address location. That is definitely not the best way to capture and please my audience.


The next thing I noticed is that there was not an opportunity entered for this particular product solution. Now I am faced with a couple of issues. Where do I put this data and how in-depth should I get on the delivery of the information I captured from the call?


Before I start entering data just to fill up a series of reports and dashboards, it is critical that I remember who my audience is in CRM. It is important to keep this in mind whenever I create or edit records within CRM. This all has impact on several different colleagues in different groups around my company looking for specific information. Let's take a look at who some of those fellow employees could be in my audience.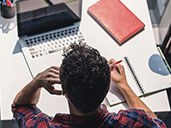 Consider a recently hired salesperson taking on their new territory with several new accounts. First priority is coming up to speed on all of the newly acquired customers and prospects as quickly as possible. If account, contact, and lead data is inaccurate and incomplete this poses as a major obstacle in beginning to understand the new territory and contact customers. As an example there could be duplicate opportunities with different close dates.


Next let's imagine we are the sales VP for a large geographic region and need to figure out account and territory alignment. With account data and opportunity data not up-to-date and accurate this becomes a daunting task. Do to the fact of having misconstrued and inaccurate data it has become more of a guessing game than a strategic decision.


Sitting in the seat of the marketing team looking for data of both happy customers and unhappy customers. A combination of accurate win/loss opportunity data plays an important role in this situation. It seems simple enough to capture by just talking to customers. The accuracy of win/loss data that is captured will also attract the attention of the previously mentioned VP of Sales. They can use this information for strategic sales success plan creation.


Another good example is the Customer Success team looking for references to supply both the sales team, strategic partners and relationships with analysts, and the professional services team. Imagine if you did not have to deal with those dreaded "fire drill" emails about providing references within 24 hours. Keeping these couple of different audiences in mind could save a lot of frustration for all involved.


As you can see my audience expands across the organization very quickly. With that, the importance of when and where I enter my data in CRM plays a crucial role in everyone's success and satisfaction.


Time for me to run for now. Just got an email that we are having a pipeline review on Friday for the end of quarter and all opportunity data needs to be accurate and up-to-date. Perfect example of one of my critical audiences needed accurate input.


Written by: Chris Hirmer, Solution Consultant, Infor
Product
Infor CRM
Customer Experience Suite
Region
Let's Connect
Contact us and we'll have a Business Development Representative contact you within 24 business hours