It's time to leave reactive maintenance management behind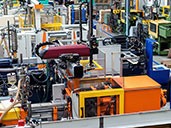 The most innovative plant engineers are finding they can put a reactive approach to maintenance management behind them. How? With greater visibility on maintenance and parts inventories through Enterprise Asset Management (EAM).
Along the way, they're saving money in at least two critical ways. First, they can minimize or eliminate the need for costly rush replacements when essential components suddenly fail. Second, they can optimize the performance of the business processes their enterprises depend on.
Not every company has made the transition to EAM. But once they do, they find there's no turning back—because an integrated Enterprise Asset Management system just keeps on paying back, day after day after day.
What can a preventive system do?
EAM delivers by tracking and reporting performance at every step in the production process.
Sensors monitor business processes, devices, and components, producing timely alerts when any part of the system falls outside standard operating parameters.
The software platform consolidates historical data that is more reliable than paper records and automates the process of spotting equipment stress and anticipating failures.
Users and managers receive real-time alerts and regular performance reports that help them keep the system running at top performance.
And organizations can use that data to set targets, improve efficiency, optimize the use of system resources, and produce cost savings that go straight to the bottom line.
Now, EAM is going into overdrive with the introduction and rapid adoption of Internet of Things (IoT) technology that can deploy even more significant volumes of mission-critical data to support decisions, action, savings, and profits across the organization.
For more information,
read "Lowering the cost of 'normal' operations"
by Kevin Price in
Plant Engineering
magazine.
Product
CloudSuite Distribution Enterprise
CloudSuite Facilities Management
Infor EAM
Region
Let's Connect
Contact us and we'll have a Business Development Representative contact you within 24 business hours