LATAM team visits Infor HQ for H&L Digital training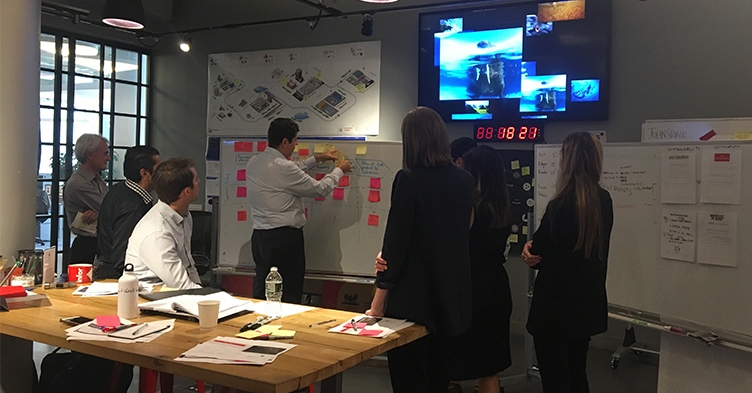 A team of our colleagues from Latin America recently visited the Hook&Loop garage in our NYC office for a day and a half of digital training. Hook&Loop Digital has always been on the cutting-edge of customer engagement since its inception, and the goal of this training was to help the team better understand H&L Digital's methods and how to apply them to key resources from throughout Latin America.
The day and a half long training sessions began with the members of the Latin America team reviewing H&L Digital frameworks, case studies, and workshop methodologies. Towards the end of the program, they put their newly acquired methodologies and tools to the test by designing and leading a mock customer workshop. The session was structured so that the members trained here would have the tools to train other Inforians on design-thinking methodology, so that they could also multiply the strategic value that they bring into customer engagements, engage new prospects, and help accelerate pipeline opportunities in the region. "The LATAM team is here to change the game by bringing together a cross-functional and cross-regional team to reinforce our customer-centric approach," said Infor VP of Development Operations Kevin Piotrowski.
Some key take-aways from the training were on how to deliver digital strategy to Infor customers and drive customer engagement with the Digital methodology and tools that were shared during the session. In addition, a "start with the end in mind" philosophy was taught – rather than focusing on what Infor products can do, there were discussions on how the products can enable the customers' vision for the future.
Everyone involved not only learned a lot, but had a great time engaging with this workshop style approach to customer engagement. Infor VP and Head of Digital Transformation James Toomey echoed those sentiments as well.
"Design-thinking workshops are a great mechanism to engage and understand customers' business challenges and to position the relevant Infor solutions as part of the customers' digital transformation strategy. These workshops help Infor to close more, bigger deals."
Let's Connect
Contact us and we'll have a Business Development Representative contact you within 24 business hours