Lessons learned from working with Amazon Web Services
Key insights on what to look for in IDing the right cloud partner, based on our own collaboration with market leader AWS.

Three years ago, Infor went all in on Amazon Web Services (AWS), using the platform to deploy our company's cloud-based business software applications, Infor CloudSuite.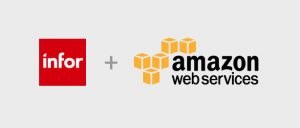 We realized that our core competency was building industry-specific enterprise software. And so, we decided to work with the world's most comprehensive and broadly adopted cloud, AWS, as our cloud provider. It was one of the smartest decisions we've made as a company.

The Infor Labs team was created to develop an architecture built on AWS that lets our applications work efficiently in the cloud, with stability and scale that leverages open source technology. Because of our relationship with AWS, we quickly deliver software to our customers, freeing up our internal development teams to focus on creating more innovative functionality.

For example, last year Infor entered a partnership with Travis Perkins, the UK's largest distributor for building materials. Travis Perkins operates more than 20 businesses spanning trade, construction, and home improvement with more than 2,000 outlets and 30,000 employees across the UK. With increasing demand from contractors for a personalized experience and custom orders, Travis Perkins implemented Infor CloudSuite, developed with AWS, to address these customer nuances.

"Our IT systems were developed in the '80s. We obviously enhanced them, but we got to a point where it was more sticky tape and elastic bands holding them together," said John Carter, CEO of Travis Perkins plc. "The customer wants what I call a martini—anytime, anywhere, anyhow. They want access to product information and product availability. Our systems were not agile enough to be customer facing, so this is a massive transformation for our trade businesses to ensure that we can be relevant for the next 25 years, not just the past 25 years."

With AWS, Infor has transformed into a cloud-based company. After all, AWS has been the leader in cloud services since it launched in 2006, and it continues to innovate at a rapid pace. Last year alone, AWS launched 1,017 new services and features. Today, Infor has more than 62 million cloud users with 7,000 customers running in the cloud.

Through our long-term collaboration with AWS, we've expanded our expertise and developed deep integrations across various cloud-based software products and services.

Here are some qualities that other companies should look for in identifying the right cloud partner.

Providing capabilities you need now, and in the future

Companies need to ensure that their cloud partners have the capabilities to deliver the applications they require to drive continuous innovation. A good cloud provider needs to provide a robust, scalable, global infrastructure with proven track record of meeting service level commitments.

Next, your cloud partner must have a wide library of services that allows your company to build on its capabilities. This should include tools for analytics, compliance, data migration, mobile services, artificial intelligence, Internet of Things, and content delivery.

Finally, a future-focused cloud partner will provide you with the ability to preview new technologies. Giving customers the option to use and provide feedback on new services is a signal that your cloud partner values collaboration, listens to what their customers have in mind, and is focused on driving innovation.

Understanding the industries you operate in

The right cloud partner will understand the industries and markets that your company delivers products and services to. Every industry has unique regulations and processes that must be met, and in many cases audited. Cloud providers need to offer the infrastructure and services to meet these deep industry requirements. This also requires the cloud provider to have dedicated industry teams to deliver continuous, industry-specific innovation.

For example, Infor just recently partnered with Nordstrom to support the company's point-of-sale system in the cloud. Nordstrom will use Infor's cloud-based Rhythm for Commerce platform to be more accurate and consistent across multiple locations, allowing the company to attend to customers more quickly and better track customer information. Thanks to Infor and AWS deep understanding of Nordstrom's needs and goals, we were able to deliver a very successful product and optimal level of support.

Supporting your global ambitions

Whether you are a multinational organization or a start-up, delivering a global solution is a requirement in today's market. Cloud partners need to operate in all of the markets that your company does business in now, or plans to expand to in the future. But it's more than just covering the map. An important advantage that our relationship with AWS provides us is the ability to more effectively meet the rigorous standards for data privacy and security in the cloud that many of our global customers require.

The best cloud provider will foster a collaborative process for ensuring adherence to governance and compliance standards for each country in which your company has, or plans to have, operations.

Our work with AWS has led to dozens of cloud solutions that give our customers the scale, flexibility, and capabilities they need. Most importantly, AWS has aligned with our business model and go-to-market strategy each step of the way to allow Infor to build solutions that get our customers the results they want. This type of relationship and intricate business knowledge is vital for any company looking to take their cloud offerings to the next level.


Let's Connect
Contact us and we'll have a Business Development Representative contact you within 24 business hours