Leveraging data to spark creativity
As the proliferation of channels and technology continues, the implications and challenges for organizations deepens. Today, companies are burdened more than ever before. In addition to the unique business challenges organizations may face, the environmental complexity that shapes the modern era adds fuel to proverbial fire. So, what ignites this "fire" you may wonder? Added niche technologies, new methods of communication, supplementary purchasing platforms and more. All of which creates more data that forms a wall and continuously divides companies from their customers. What used to be a linear path to purchasing a product or service from a vendor, has now become a zig-zag, crisscross, maze and as a result, when we meet with many organizations we often hear how this abundance of data has become cargo. Especially within the marketing department.
The most common way we see this challenge being addressed by marketers is at the segmentation level. Organizations are aggregating all of the data into one centralized platform that can empower marketing teams to quickly decipher which group of people should receive their next campaign. This helps "personalize" the customer experience and break down the wall that data builds. While this approach is a proven method to attaining success, it's what everyone is or should be doing in 2017. For companies that are doing this effectively today, they are now on an even playing field with their peers. But the questions still remain. How do you stand out from the crowd? How do you surpass the competition and everyone else around them?
The reality is that content is everywhere and the landscape is becoming more and more competitive for businesses. Marketers are spending hours, days, weeks and even months developing impressive ideas and concepts, yet consumers are glancing at it for minutes or even seconds in some circumstances. Marketers now have the data, tools and platforms they need to stand out and in 2017, more than ever, we will begin to see how successful marketers tap into that data to spark creativity and use it as an art form to tell stories.
In fact, just a few weeks ago while embarking on my morning commute into New York City for a meeting, for the first time in a long time I stopped to read these two billboard ads that caught my eye. I stood there chuckling to myself, wondering if somewhere out there my embarrassing data made a billboard and as a solution consultant in the marketing space, I thought to myself "wow" that's a great use of data and technology. The funny thing was that I could see that others around me were doing the same.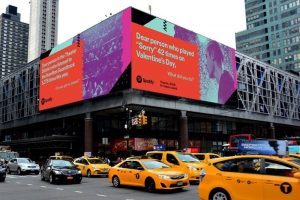 Digital music service company, Spotify, used the data they aggregated from their platform and their listeners to create one of 2016's most impressive and compelling campaigns that has since gone viral. The campaign, which was rolled out across several localized regions in November, was entitled "Thanks 2016, it's been weird." Spotify placed these outdoor ads throughout the globe, while changing the content and messaging to be specific to the viewers in the region. For example, in New York City, there was an ad which read "Dear person in the Theater District who listened to the Hamilton soundtrack 5,376 times this year. Can you get us tickets?" While in Los Angeles an ad read "Dear person in LA who listened to the "Forever Alone" playlist for 4 hours on Valentine's Day, you OK?"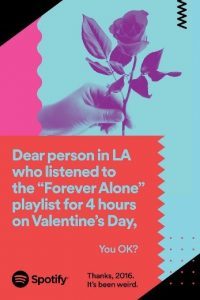 This campaign shared humorous and relatable stories with viewers and listeners around the world. There were no offers or incentives. No call-to-action per say, but it captured everyone's attention and provided them with an opportunity to connect with the brand and service they provided. This campaign encompassed the art of storytelling and data all into one.
You have the data and the opportunity to partner with vendors like Infor to help you tap into it, so my question to you is, could your next big campaign be sitting in your lap?
Written by:
Brittney Paone
, Senior Solution Consultant
Let's Connect
Contact us and we'll have a Business Development Representative contact you within 24 business hours