Links to the outside world
Libraries only rarely operate purely on their own: they are usually connected in a network, they have partners, they participate in solutions (collections, [union] catalogues, …) that are maintained elsewhere. As such, they need to exchange data on a regular basis. This need exists in almost all libraries. To realize this need, we support a wide range of protocol, standards and links.

Openness / Linking with the external world
All products from our portfolio are "open". A number of examples are included here, where we make a distinction between "others in us" and "us in others" and where we focus on functionality and not on technology (the latter is usually provided by APIs based on JSON or XML):
V-smart "others in us": Swift, MARCXML, harvesting (OAI-PMH client), flexible bibliographic / item import, eIK, LDAP / ADFS, KB e-books, Zoek-API (Dutch Royal Library), EDI, ILL … and many others
V-smart "us in others": harvesting (OAI-PMH server), flexible bibliographic / item export, search API (Infor), export of financial loan data to other systems, EDI, ILL
Iguana "others in us": Twitter Tweet widget, Google Maps widget, Content-API (obsolete), KB e-books, Dilicom, Overdrive, ... and many others
Iguana "us in others": APIs / IguanaXgateway, RSS Feeds for new items
V-link "others in us": KBART, Google Scholar (retrieval of metadata)
V-link "us in others": OpenURL, XML API, Google Scholar, OAI-PMH, PubMed and CrossRef (DOI) (the last three for retrieving metadata)
V-insight / V-eyeQ "others in us": Google Maps widget, GoodReads widget
Open V-insight: data from any source in V-insight
Links with speech readers and "magnify and read" software (JAWS, ZoomText, NVDA)
Link with GGC / Worldshare
Link with e-mail marketing (Webpower)
ODBC link (read-only)
SSO (LDAP, ADFS, ...)
The list is not endless, but certainly long.
Attention! This list contains only a number of possibilities of the solutions. The list is non-exhaustive. Some solutions involve additional costs.
An example link: CRM
There are, largely speaking, two possible types of CRM (Customer Relationship Management) integration.
CRM is supported:
V-smart offers the possibility to store data about visits, letters, e-mails, phone calls with e.g. wishes, complaints, questions, presence, etc. This also provides the possibility to define "triggers" for both the person who "supervises" a task as for the person who has to perform the next sub-task (an example of such a "trigger" is, for example, "notify me 1 day before the due date").
V-smart has a central, reliable and robust customer database that is also suitable for storing, for example, prospects (e.g. with a separate category (categories)), so that separate mailings can be carried out.
The V-smart customer database has various options for monitoring data quality and integrity and is flexible and adaptable: you specify which fields you use. Please note that the application is GDPR compliant.
The building blocks of our solution are, for the listed components:
• website: Iguana
• visitors: V-smart Contact Management
• people attending a lecture: V-smart Contact Management
• newsletters: Iguana Newsletters
• potential customers: V-smart
• analysis: V-insight.
integration with external CRM applications
Infor has extensive experience with links with CRM systems, for example with Salesforce (Bibliotheekservice Passend Lezen) and with Microsoft Dynamics (OBA, Amsterdam Public Library).
So, in addition to the management within V-smart, there are also the aforementioned links with external CRM applications. The working method is usually as follows:
export and synchronization of (non-specific) data from V-smart
import into the external CRM application
management in the external CRM application
for details, there are deeplinks from the external CRM application to customer management in V-smart.
A screen shot from SalesForce.com (the main deeplink is the button "Open Borrower in V-smart") - please note that multiple elements were significantly modified for privacy reasons: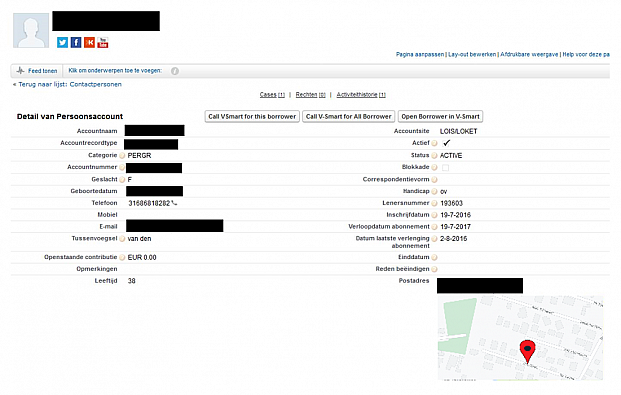 Standards and norms
Standards and norms that are supported include:
Marc21 (Marc21/B, Marc21/A, Marc21/C, Marc21/H, Z39.71)
UniMarc (UniMarc/B, UniMarc/A, UniMarc/H)
Other metadata formats (CDWA, ISAD(G), DC, CHIN, ...)
Import / export (MarcXchange, MarcXML, ISO2709, DC-XML, RIS, RSS, ...)
Search & harvesting (Z39.50, SRU, OAI-PMH, OUF)
DIY (SIP2, SIP2 via HTTPS, NCIP)
Others - library (OpenURL, DOI, …)
Others - IT (UNICODE, XML, SOAP, JSON, REST, …)
Naturally, the support of these standards enables many types of links. The most illuminating example is probably the SIP2 protocol, which is used to support circulation via DIY stations (loans, returns), pay stations, reservation systems and sorting robots. Operational links include interfaces with
3M
KnoTech
NEDAP Librix
AutoCheck
HSBIB
Axiel
Bibliotheca
I-Track
Libramation
MK Solutions
Intellident
BeeSmart
Xafax
EastBridge
and others
Product
Library and Information Systems
Let's Connect
Contact us and we'll have a Business Development Representative contact you within 24 business hours