Looking back for a clearer view of the future of work
Breakthrough informational graphics show the only constant is constant change.

What is most important — knowing where you have been, where you are, or where you are going? Most people would probably say the past is essential to adding context to the present, which allows us to think more clearly of the future. In other words, they are equally important.

It is also true that pictures are often far more valuable than words. So, to these ends, BBC StoryWorks has created a set of informational graphics mapping the various forces that shape work over time. These infographics are divided into five timeframes, three in the past and two in the future. Together, they offer a story of change affecting tens of millions of workers globally while underscoring that the pace of change is growing at an accelerating rate. The information is fascinating, arresting, scary, nostalgic, compelling, controversial, and stimulating.

There are also rich anecdotes that paint pictures of simpler days with long-lost office technology such as adding machines, rotary dial phones, and manual typewriters, conjuring images of millions of secretaries and typists aligned in long rows in large, harshly lit rooms.

Looking ahead 30 years from today, a radically different reality emerges along with the question: What types of work will emerge?
Constantly changing times for key executives

Equally compelling are the changing requirements for success as a business leader. In the command-and-control office modes of the 1950s, the key factor for successful execs was financial acumen. Management "technique," such as it was then, centered largely on giving instructions and orders to subordinates. There was a personnel department in most enterprise organizations, but there was no human resources function, as we know it today.

By 1975 the teachings of management guru Peter Drucker began to infiltrate executive thinking and actions. The results included a demand for executives with a mix of hard and soft skills, especially motivational ability. Workers were getting used to thinking more on their own.

By 2000 the chief skill sought in executives was a global outlook, as the last vestiges of industrial isolationism evaporated. In addition, executives were called upon to build and manage far more diverse work forces, as traditional gender and race-based boundaries dissipated.

Looking ahead just a few years to 2025, the required executive skillsets will shift markedly toward technology. Successful execs will need to be far more data-literate than ever, and acutely aware of the potential business benefits of artificial intelligence and machine learning. By then, robots and humans are working together, communicating and collaborating not only on the factory floor as they do today, but in office and business tasks.

And finally looking two generations ahead to 2050, we see a very different picture emerge, both of the workplace and of the executives charged with managing it. By then, AI-enabled humans will dominate the workforce, with various micro-electronic sensors and devices embedded in their bodies. Executives will need be expert in emotional intelligence as these sensors spew out a constant stream of data on emotions, reactions, stimuli, and so on. Dealing with mass complexity becomes the order of the day as millions of tasks done just 25 years earlier disappear.

Techno-drivers of change

But as the infographics clearly show, each new technology-driven major disruption has not only resulted in jobs evaporating, but often many jobs being created. The question of course is, what kinds of jobs and how many? For example in 2025, the hot jobs foreseen include data scientists (already in great shortage), robot trainers, simulation designers, and scenius managers — people trained to closely examine office environments and fine tune them for maximum efficiency and productivity.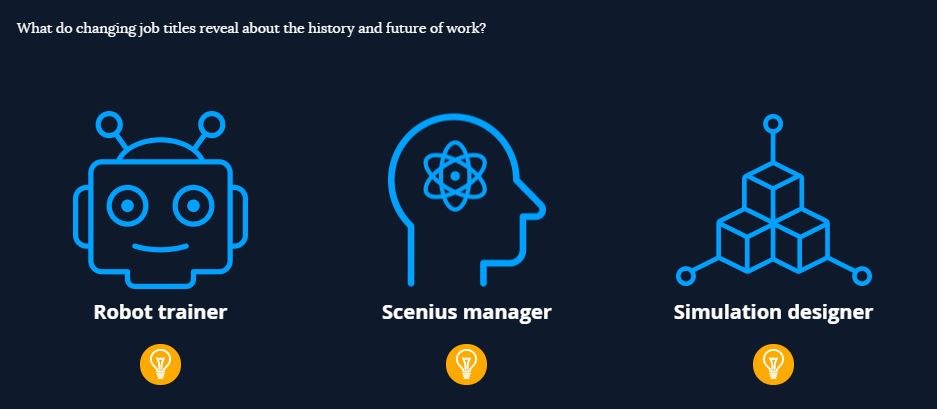 Each era in this 100-year office work journey is marked by explosive, highly disruptive technologies. Included among them are such mundane items as the phone answering machine of the 1950s; the personal computer of the 1970s; the Internet and World Wide Web at the turn of the millennium; robotics and AI in the 2020s; and brain-computer interfaces several decades out, in which all digital devices we think of carrying with us now (and some we haven't conceived of) will be embedded in our bodies.

Ready or not, here comes the future. A good look at the past and present helps to properly frame it.

View the "Forces at Work" infographic.


Product
Infor Workforce Management
Region
Let's Connect
Contact us and we'll have a Business Development Representative contact you within 24 business hours