Machine-to-machine connectivity helps reduce maintenance costs and improve customer satisfaction
The third post in a series designed to improve understanding of the value of connected systems, including connectivity between equipment assets and internal systems.

In this digital era, connectivity and visibility have become an integral part of success. Companies must see their end-to-end operations, including status of supply chain partners. Mobile solutions and Internet connected devices (Internet of Things) are the typical tactics deployed by companies as they strive to gain real-time access to critical data, enterprise-wide. But for equipment-centric companies, those two applications are seldom enough.

Equipment dealers, rental companies, construction firms, operators, and service technicians also need to connect and communicate with their equipment. The massive, intricate, high-value pieces of machinery, like cranes and road construction equipment, need a voice and a way to communicate.

Enter telemetry
For at least a decade the equipment industry preempted other industries, bringing machine-to-machine applications to market. Telematics simply means the use of Wi-Fi signals to send information from a machine in the field to an operator in the office who can retrieve data and monitor it. As the equipment industry faces global competition and increasing demands of customers, the use of telemetry is beaming more and more critical.

The applications are varied and continually increasing as innovative companies find new ways to apply the proven concepts. Here are some examples of applications: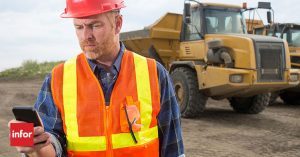 Performance. Equipment companies can use telemetry, including onboard diagnostics and sensors, to monitor and report data on the performance and operation of equipment. For example, monitoring idle time can help decrease fuel consumption while overload warnings can stop accelerated wear on components.

Need for maintenance. Sensors embedded into the machinery can monitor, capture and report on a variety of data that dealers can use to schedule preventive maintenance and repairs more precisely, allowing equipment owners to minimize downtime. For example, the data can generate an alert if a machine isn't working at peak performance, which could indicate a component is failing and should be replaced. It can monitor fault codes and diagnostic codes. Identifying problems early can help extend the life of a machine and reduce repair costs.

"Flint has a machine monitoring group that reviews telematics data received from our customers every day," says Don Tracy, manager, Product Support Operations at Flint Equipment Co., a John Deere Construction and Forestry equipment distributor with 17 full-service facilities in Georgia, Alabama and South Carolina. "This group reviews alerts, looking for any issues that could negatively impact a customer's machine performance or result in maintenance issues, leading to unplanned downtime and production loss."

Safety. Telematics data can also reveal speeding, erratic movements and overloading of machines, which could result in an accident. Monitoring provides information to take corrective action and improve jobsite safety.

Usage. Telematics data can show how much each machine is being used on their customers' jobsites. With data that shows if machines are being over- or under-used, dealers can proactively suggest changes to better balance the fleet.

Customer satisfaction. Providing data to the customer can create a loyalty and perceived value. "Our CSA's (Customer Service Advisors) provide equipment owners with reports that include things such as location, fuel consumption, idle times, machine utilization, and machine function (i.e. which transmission gear is being used forward and reverse), which helps increase component life and reduce operator abuse," says Tracy.

When dealers help their equipment owners improve fleet management, reduce downtime, and lower maintenance costs, how could customers be anything but pleased? "Flint started this process about a year ago," says Tracy, "and we've received positive customer feedback."

And the dealers that are providing this service to their customers are expanding it.

"When Flint began monitoring machine telematics data, only machines with Flint's maintenance programs, Flint rental machines, and larger production-class equipment were monitored," says Tracy. "Later this year, we plan to open up machine monitoring on all machines Flint sells."

Monitoring equipment telematics data for customers to help them be more profitable and productive is just one way digital connectivity is helping dealers create a competitive advantage.


Industry
Equipment
Equipment Dealers Rental & Service
Let's Connect
Contact us and we'll have a Business Development Representative contact you within 24 business hours