Recently, the innovative "Genretool" went live at 'Library Service Passend Lezen' (BPL) ["Passend Lezen" would be "Read as appropriate" in English]. This library caters exclusively to the needs of blind, visually impaired, and dyslexic readers in the Netherlands. This "Genretool" is the most recent example of the wish list feature that is used by most Libraries for the Blind that use V-smart.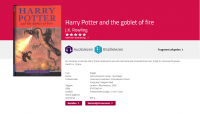 BPL has a collection of over 80,000 spoken books, more than 18,000 braille books, and approximately 125 titles of popular newspapers and magazines. The tool that Infor developed aims to enhance the experience customers have with Library Service Passend Lezen and to encourage readers to 'stream' books online instead of borrowing materials on CDs. Though the feature does not only cover genres, it is called the "Genretool".
Customers can create a wish list, with titles they would like to read. The Genretool makes it possible for people to have titles automatically placed on their wish list, based on their specified preferences, whereafter users can read or listen to the books via their (digital) bookshelf. In order to select books the users are interested in, the Genretool takes the users' preferences into account. For example, users can specify what genres they are interested in or explicitly do not want, or what language they prefer. Moreover, users can indicate if they want to receive a book on a CD or if they prefer to stream it online. These are just a few of the preferences the Genretool can take into account when selecting books for its users. Other examples are that the Genretool looks at the age group the book is written for, or that it only selects books written by Dutch authors. A user's profile also contains a minimum number of wishes and the Genretool checks daily if the number of wishes is not below that. If so, new wishes will be added to the list. A simple example: if customer A has on her list English audio thrillers, the Genretool will automatically select a next audio thriller in English once the previous one is returned.

Although the feature will help many people to find books they would not have found otherwise, we also realize that some people know exactly what they want to read. We offer these users the ability to fill their wish list with exact, individual titles. Regardless of how titles were added to the wish list, the books are automatically loaned to the customers. This process is based on a 'Target number', which indicates how many books users want to have on their (digital) bookshelf. If the number of books they have on their (digital) bookshelf drops under their Target number, the process will automatically place a book from their wish list on their (digital) bookshelf the next day. If a user expects he or she will not enjoy a book added to their (digital) bookshelf, he or she can simply remove it.
A few screenshots to illustrate the above and the announcement of the GenreTool on the BPL website: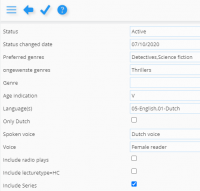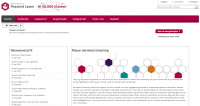 Product
Library and Information Systems
Let's Connect
Contact us and we'll have a Business Development Representative contact you within 24 business hours