Make CRM stick – ways to increase user adoption
When deciding to commit to a CRM solution for your business, there are many considerations long before you begin to select which is the right CRM. It's important to clearly define why you want a CRM, and what success looks like for everyone across the organization so you can get early support of user adoption. Most departments will have some involvement in the CRM process, so it's important to get acceptance early on.


When introducing a new CRM solution in the organization this often means change. Let's face it. Change is hard. It's human nature to resist change, and this can lead to slow user adoption.


Clearly defining your CRM strategy can make or break a successful CRM implementation. But often times, that strategy is more focused on the technology, rather than the people who will be using it. The two aspects are closely aligned and should be equally considered. Here are a few thoughts as you start down the path of your CRM journey to help ensure successful CRM implementation for high business returns and happy CRM users.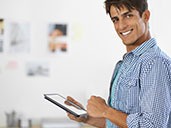 Get user buy-in


Your approach may vary if you are replacing an existing CRM, verses bringing in CRM for the first time. But in either case, this will involve changing user behaviors. We're all creatures of habit so when change is imposed upon us, to some degree we instinctively resist. This could be due to the fear of more work, fear of unwanted tasks, or fear of not knowing what to expect.


To alleviate some of this fear, it helps to engage with users from the start and get their feedback. If users feel like they have some input to the change, and can take stock in how this will help benefit them, chances are they will be better users of the system.


Your CRM is only as good as the data that's in it. If you want your team to maintain activity, update records for accurate pipeline and reporting, then you'll need to understand how they work, and where they need the most help to become more efficient.


While your CRM implementation is the perfect opportunity to evaluate your sales processes, consider a phased implementation so users can adjust and become comfortable with the system. You don't want to change everything all at once. This is a sure way to overwhelm your sales team, causing them to lose focus on what they do best – sell! Taking on too much will lead to poor user adoption, and potentially loss in productivity and sales.

It's a journey


It's great to set timelines and goals for your CRM evaluation and implementation as well as setting expectations for your users. Create milestones for the team to learn different features, and support this with specific training for different processes. It helps to break up the training sessions into shorter and more digestible sessions, rather than one long exhaustive session. And have a "go-to" person who can answer questions, offer support and ensure best practices along the way.


Let's not forget to recognize good behavior. Acknowledging your team for moving CRM forward, and sharing how this impacts the business will go a long way to keeping everyone moving in the same direction.


For those organizations that consider the end-user adoption upfront and claim successful CRM implementations see big benefits and real business value to their bottom line from customer retention, satisfaction, revenue, and more.


Successful CRM implementation with effective CRM adoption is not easy, no matter what size the organization. Want to learn more? Check out the eBook, Make CRM stick – 8 ways to increase user adoption.


Written by: Theresa Guerra, Solution Consultant, Infor
Let's Connect
Contact us and we'll have a Business Development Representative contact you within 24 business hours